European champion in 100m and 200m Dafne Shippers of Netherlands will compete in 60m at the IAAF World Indoor Meet in Karlsruhe on January 31.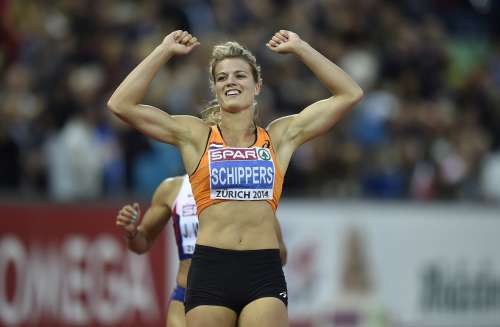 The 22-year-old Shippers, who won bronze medal in heptathlon at the 2013 world outdoor championships in Moscow, announced that this year she will focus more on sprint events.
Shipper's one of the biggest European rivals Veronica Sailers of Germany will also contest at the Karlsruhe meeting 60m. Sailers have defeated Shippers 5 out of 6 times when running head to head.
It is interesting to note that the track that was used at the 2013 European Indoor Championships in Gothenberg where Schippers and Sailer set their personal bests of 7.14 and 7.12 will be used in Karlsruhe.

Shipper's 2014 Sprint Stats
60 m Indoors
7.28








Apeldoorn
25 Jan
7.24








Karlsruhe
1 Feb
7.24








Karlsruhe
1 Feb
7.19








Birmingham
15 Feb
7.17
SB






Birmingham
15 Feb
7.45








Apeldoorn
22 Feb
7.34








Apeldoorn
22 Feb
7.25








Apeldoorn
23 Feb
7.19








Sopot
8 Mar
7.18








Sopot
9 Mar
100 m
11.62


-0.2




Hoorn
17 May
11.22


0.6




Hoorn
17 May
11.34


-0.7




Hengelo
8 Jun
11.16


-1.2




Braunschweig
20 Jun
11.28


-0.3




Lausanne
3 Jul
11.03 NR NUR
PB
0.9




Glasgow
12 Jul
11.59


-0.4




Amsterdam
26 Jul
11.10


0.7




Amsterdam
26 Jul
11.10


-0.4




Zürich
12 Aug
11.08


0.6




Zürich
13 Aug
11.12


-1.7




Zürich
13 Aug
11.10


-0.7




Zürich
28 Aug
11.26


-1.5




Marrakech
13 Sep
200 m
22.77


1.1




Hoorn
17 May
22.35


1.5




Götzis
31 May
22.74


1.2




Braunschweig
22 Jun
22.34



0.2




Glasgow
12 Jul
22.73


0.1




Zürich
14 Aug
22.48


-0.6




Zürich
14 Aug
22.03 NR NUR
PB
-0.5




Zürich
15 Aug
22.30


0.1




Bruxelles
5 Sep
22.28


0.3




Marrakech
14 Sep
-->