Running in windy conditions,

Brett Robinson

and

Veronicah Wanjiru

won the 2014 men's and women's

10000m titles at the annual Zatopek: 10 track and field meet in Melbourne on Thursday night.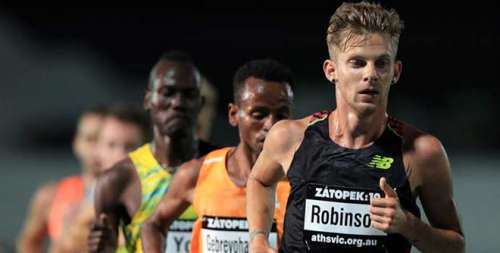 Robinson narrowly defeated teammate Duer Yoa and Eritrea's Samson Gebreyohannes setting a new personal best mark of 28:45.36. Yoa whocrossed the line iin second place clocked 28:46.46, while Gebreyohannes posted a time of 28:49.42.
Robinson is the first Australian to win Zatopek: 10 race since Collis Birmingham in 2009.
Veronicah Wanjiru of Kenya in her first track 10000m race clocked 32:22.22 to win the race. Australia's Eloise Wellings came in second with a time of 32:26.59, while her teammate Madeline Heiner finished in third after 32:44.71.
Earlier in the day Australian Alex Rowe dominated men's 800m. Rowe comfortably won the race in 1:46.96 followed by West Jared in second in 1:48:77 and Dylan Stenson in third 1:49:53.
-->