Bekele & Kipchoge Eye Record in Chicago

Posted by:
Watch Athletics
Wednesday, 08 October 2014
This years's Chicago Marathon record will be under threat as the great Etiopian, Kenenisa Bekele, and Kenya's multiple World championships and Olympic Game medalist, Eliud Kipchoge, will try to break Dennis Kimetto's 2:03.45 course record.
On April 6 in Paris, Bekele running his first marathon race in his career surprised the running community with the win and a new course record of 2:05.04. Soon after his successful marathon debut, Bekele announced his participation at this year's Chicago marathon with a goal to go under 2:04 mark and to break the course record.
"I am looking forward to coming back to America, and to running fast. I have heard great things about the fans in Chicago and the course. After my win in Paris, I understand the marathon distance a lot better and I will bring that experience to Chicago. I know Chicago has a very fast course and, therefore, my goal is to break the course record of 2:03:45. After that, everything is possible." Said 3-time Olympic champion Bekele.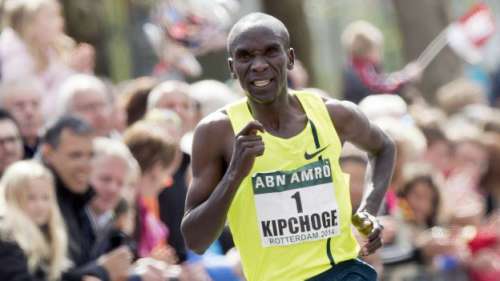 The strong Kenyan squad will lead the 29-year-old Eliud Kipchoge, who in his marathon debut at the 2013 Hamburg Marathon right away impressed with 2:05.30 and a win. Kipchoge continued to impress later that year by shaving of 1min and 25 seconds from his PR to take second place behind Wilson Kipsang's world record run of 2:03.23 in Berlin.
Kipchoge' like his long time rival and friend, Bekele, is also planning to run faster than the current course record and admits that Bekele's participation will only help to achieve the high goal.
"The focus is on lowering the course record in Chicago and that will thrust me in the two hours and three minutes region in running marathon. Whoever is included in the competition, will only spice up the race. I run my own style," said multiple World and Olympic games medalist Kipchoge ahead of his departure.
"We might even dare to dream of a cherry on top. The world record is something we have talked with my management," told Kipchoge who won very windy Rotterdam marathon posting 2:05:00 earlier this year.
"But it is something we are not dwelling on so much, since, this is my fourth marathon and has to see how the body responds to it. It is also my first time in USA and weather permitting; I will let the legs do the talking." Kipchoge told african.news.cn.
The winner of the Chicago marathon will cash in 100,000 USD and another 75,000 USD for breaking the course record.
To watch the live online visit the page here>>
-->