• Elite Athletes: Chicago Marathon 2014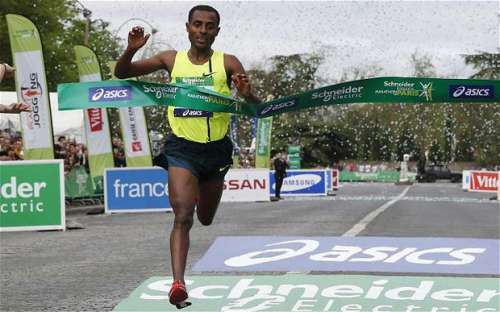 The 2014 Bank of America Chicago Marathon, an IAAF gold label road race, will take place on Sunday, October 12. The men's field will lead world record holder in 5000m and 10000m Kenenisa Bekele, who will face three sub 2:05 marathoners; Eliud Kipchoge (2:04:05), Tadese Tola (2:04:49) and Bernard Koech (2:04:53). Bekele in his debut marathon race in Paris on April 6 set a course record of 2:05:04. The Ethiopian said that his main goal in this Sunday's Chicago marathon is to break the coarse record of 2:03.45 set by world marathon record holder Dennis Kimetto a year ago.
Defending Chicago marathon champion Rita Jeptoo (PR 2:18:57) will lead the women's field. Also Florence Kiplagat (PR 2:19:44) and Ethiopia's Mare Dibaba (PR 2:04:53) who will be among contenders for the win at the 2014 Chicago marathon.
Men Elite Field

Name


Eliud Kipchoge
Tadese Tola
Bernard Koech
Kenenisa Bekele
Sammy Kitwara
Dickson Chumba
Wesley Korir
Koji Kobayashi
Satoru Sasaki
Ryosuke Fukuyama
Rui Yonezawa
Naoki Okamoto
Bobby Curtis
Patrick Rizzo
Craig Leon
Mike Morgan
Luke Humphrey
Christo Landry
Miguel Almachi
Tim Young
Jameson Mora
Gabe Proctor
Bayron Piedra
Matt Llano
Brendan Gregg
Jake Riley

Country


KEN
ETH
KEN
ETH
KEN
KEN
KEN
JPN
JPN
JPN
JPN
JPN
USA
USA
USA
USA
USA
USA
ECU
USA
USA
USA
ECU
USA
USA
USA

Personal best


2:04:05
2:04:49
2:04:53
2:05:04
2:05:16
2:05:42
2:06:13
2:08:51
2:09:47
2:10:59
2:11:59
2:12:31
2:13:24
2:13:42
2:13:52
2:14:22
2:14:39
2:14:44
2:15:02
2:15:14
2:15:44
2:16:17
Debut
Debut
Debut
Debut

Women Elite Field

Name


Rita Jeptoo
Florence Kiplagat
Mare Dibaba
Birhane Dibaba
Gelete Burka
Amy Hastings
Clara Santucci
Melissa White
Wendy Thomas
Laura Portis
Sarah Cummings
Lauren Jimison
Yuri Yoshizumi
Devon Yanko
Whitney Bevins-Lazzara
Heidi Greenwood
Sarah Crouch
Lindsey Scherf
Lisa Uhl

Country


KEN
KEN
ETH
ETH
ETH
USA
USA
USA
USA
USA
USA
USA
JPN
USA
USA
USA
USA
USA
USA

Personal best


2:18:57
2:19:44
2:19:52
2:22:30
2:26:03
2:27:03
2:29:54
2:32:37
2:32:49
2:33:46
2:34:57
2:35:17
2:37:54
2:39:37
2:41:19
2:42:08
2:44:25
Debut
Debut
Men Elite – Wheelchair Competition

Name
Josh Cassidy
Ernst Van Dyk
Masazumi Soejima
Heinz Frei
Kurt Fearnley
Josh George
Krige Schabort
Country
CAN
RSA
JPN
SUI
AUS
USA
USA
Personal Best
1:18:25
1:18:27
1:18:51
1:20:14
1:22:01
1:22:50
1:26:04
Women Elite– Wheelchair Competition

Name
Tatyana McFadden
Amanda McGrory
Manuela Schär
Diane Roy
Country
USA
USA
SUI
CAN
Personal Best
1:35:06
1:36:39
1:38:07
1:40:09