South Africa's Stephen Mokoka was the winner of today's Great Scottish run in Glasgow while favorite Haile Gebrselassie was forced to withdraw from the race due to breathing problems.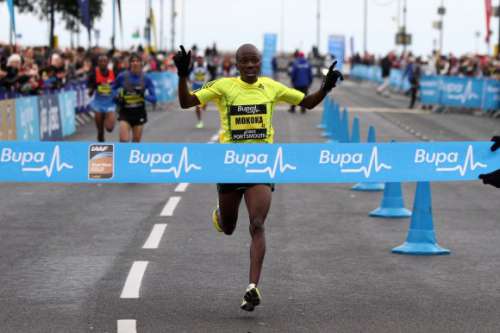 The 29 year old Mokoka locked 61.15 for the win defeating Australia's Stephen Chemlany and Kenya's Mark Kiptoo who finished only seven seconds behind the winner.
"The training I've done has been very good but I knew things were not quite right when I did my speed work," Haile Gebrselassie who won last year's race in 61.09 BBC Sport.
The women's race won two time world marathon champion Kenya's Edna Kiplagat, who posted 1:07:57. Another Kenyan Caroline Kilel finished almost one minute behind Kiplagat clocking 68.53.
Nearly 30,000 runners of all ages participated in Great Scottish run on Sunday, October 5.
Women Half Marathon Top 10
| Pos | Name | Club | Finish Time |
| --- | --- | --- | --- |
| 1 | EDNA KIPLAGAT | | 01:07:57 |
| 2 | CAROLINE KILEL | | 01:08:53 |
| 3 | TIKI GELANA | | 01:10:37 |
| 4 | FAITH KIPSUM | | 01:11:10 |
| 5 | SUSAN PARTRIDGE | Leeds City Athletic Club | 01:12:12 |
| 6 | BETH POTTER | Shaftesbury Barnet Harriers | 01:13:29 |
| 7 | TETIANA GAMERA-SHMYRKO | | 01:13:42 |
| 8 | GEMMA RANKIN | Kilbarchan AAC | 01:16:36 |
| 9 | JOASIA ZAKRZEWSKI | Dumfries Running Club | 01:18:46 |
| 10 | FANNI GYURKO | Central Athletics Club | 01:19:53 |
Men Half Marathon To 10 Results
| Pos | Name | Club | Finish Time |
| --- | --- | --- | --- |
| 1 | STEPHEN MOKOKA | | 01:01:25 |
| 2 | STEPHEN CHEMLANY | | 01:01:32 |
| 3 | MARK KIPTOO | | 01:01:34 |
| 4 | CHARLES CHERUIYOT | | 01:01:56 |
| 5 | MICHAEL SHELLEY | | 01:02:54 |
| 6 | CALLUM HAWKINS | Kilbarchan AAC | 01:03:06 |
| 7 | KEVIN KOCHEI | | 01:03:11 |
| 8 | TEWOLDE MENGISTEAB | Shettleston Harriers | 01:05:55 |
| 9 | ANDREW DAVIES | Stockport Harriers & AC | 01:06:40 |
| 10 | ROBERT GILROY | Ronhill Cambuslang Harriers | 01:07:12 |
-->