Zhang Wenxiu of China, who on September 28 won the women's hammer throw gold has been stripped of her gold medal after she failed doping test at the Incheon 2014 Asian Games.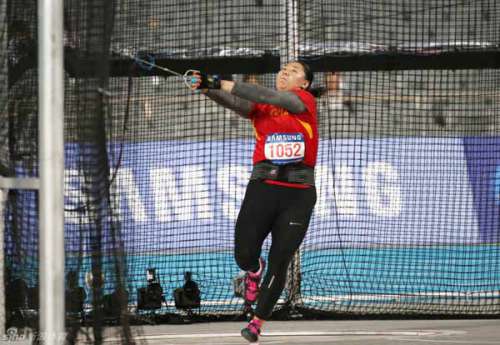 Image Source; LINK
Last Sunday, the 28-year old Wenxiu with a throw of 77.33 metres won her third straight Asian games gold, but the report form the Olympic Council of Asia revealed that her pre-competition urine sample taken on September 26 contained Zeranol which is metabolite (ß-Zeranol), a prohibited substance in the WADA [World Anti-Doping Agency] Prohibited List 2014." It is a non-specified substance under category S1.2, "Other Anabolic Agents".
As a result the athlete has been removed her gold medal and disqualified from the games.

"These findings will now be forwarded to the competitor's national authorities, the Asian Athletics Association and the IAAF [International Association of Athletics Federations], and the World Anti-Doping Agency for further action on their part as per sanctions concerning eligibility," Dr M Jegathesan, the chairman of the OCA Medical Committee and Anti-Doping Commission said in a statement on Thursday.
Zhang Wenxiu is the sixth athlete to fail doping test at the Incheon 2014 Asian Games.
-->