Formerly the IAAF World Cup in Athletics, The IAAF Continental Cup, started in 1977, brings together, based on ranking, invited individual track and field athletes who normally represent their country to compete as a team to represent their continent. This year in Marrakech, the Americas team is made up of athletes from countries in both North America and South America, competing against Africa, Asia-Pacific, and Europe. With the rule of "only one athlete from any one country may compete in each individual event," the IAAF is expected to give away a total of $3 million in prize money. Teams will earn points to claim the title of best continent in terms of standings going into World Championships for 2015.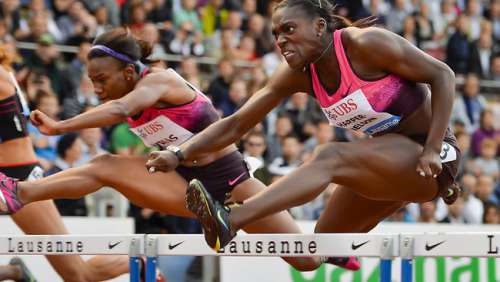 THE CONTINENTS OF ALL CONTINENTS IS…
The last IAAF Continental t took place in Split, Croatia in 2010. The Americas (422.5 standings points) finished first ahead of Europe (417 standing points) with Africa (293 standing points) coming in third. The Americas men took gold in the following events: 200-meters, 400-meters, 3000-meters, 5000-meters, 110-meter hurdles, 4x100-meter relay, 4x400-meter relay, long jump and shot put. Americas women gold medals were in 100-meters, 400-meters hurdles, 4x100-meters relay, and 4x400-meters relay.
HONORED TO BE FOR THE LAST RACE
Olympian Dawn Harper Nelson,
to represent the Americas team in the 100-meter hurdles for the 2014 IAAF Continental Cup on

September 13

-14 in Marrakech, is the favorite in the 100-meter hurdles going into the meet. Running very well winning her third consecutive IAAF Diamond League championship in Zurich on Aug. 28, she has strong competition in Europe's Tiffany Porter (GBR) who is coming off of a win at the Great North CityGames in Newcastle, England, where Harper Nelson finished third on Sept. 6. Harper Nelson still holds the season's world lead time of 12.44 seconds set in Paris on

July 5

and is ranked number one in the world in 100-meter hurdles. Dominican Republic's
Lavonne Idlette will join Harper Nelson as an invited hurdler for the Americas team. 2010 winner, Sally Pearson (AUS) will not be on the Asia-Pacific team this year.
THE COMPLETE PICTURE OF THE SEASON, WITH ONE EXCEPTION
Going into the last race of the season, 2014 IAAF Continental Cup, Olympian and Three-time IAAF Diamond League Champion in 100-meter Hurdles Dawn Harper Nelson had a wonderful 2014 season.
As recap, at the Great North CityGames in Newcastle, England on Sept. 6, Harper Nelson stuttered getting out of the blocks putting her slightly behind going into the first hurdle and was not able to make-up during the run. She recorded a time of 13.03 seconds, finishing third with Great Britain's Tiffany Porter coming in first (12.79 seconds), and fellow American Brianna Rollins second (13.02 seconds).
On August 28 at the Weltklasse Zurich meet in Zurich, Harper-Nelson won her three-peat IAAF Diamond League championship and recorded a time of 12.58 seconds for the top spot, to put her solidly ahead in overall points with 21. Race results were Sally Peterson of Australia finishing second (12.71 seconds) and Great Britain's Tiffany Porter finishing third (12.72 seconds).
In Birmingham, England, on Aug. 24, at the Sainsbury's Birmingham Grand Prix, Olympian and Three-time IAAF Diamond League Champion Dawn Harper Nelson (USA) took the top spot (12.66 seconds) for the 100-meter hurdles over Queen Harrison (USA), who then sat at the top of the leader board in the hunt for the IAAF Diamond League trophy.
On Aug. 21, Harper Nelson placed third in 100-meter hurdle race at IAAF Diamond League DN Galan meet in Stockholm. She recorded a time of 12.99 seconds behind, fellow Harrison (12.66 seconds) and Nia Ali (USA) (12.96 seconds), first and second place.
Harper Nelson was back to pursuing the IAAF Diamond league three-peat title and trophy in Paris on

July 5

, at the Meet Areva after a two month break. There, she placed first (12.44 seconds) besting Harrison (USA). She finished at the top of the IAAF Diamond League leader board with eight points, along with setting the world lead time.
On

June 28

, Harper Nelson (12.55) won the U.S.A. Track and Field Outdoor Championships in Sacramento, Calif., again edging Harrison (12.56) in a photo finish of the 100-meter hurdles to receive her first National title.
Another nail biter for Harper Nelson, she lost to Harrison (12.62) at the IAAF Diamond League - adidas Grand Prix in New York on

June 14

, the sixth race of the season. Harper Nelson placed second by a hundredth of a second (12.63).
Harper Nelson
placed second at her first IAAF Diamond League race in Rome on

June 7

. Her performance to date is a seventh place (12.87) finish at Drake Relays, back-to-back wins at the Cayman Invitational (12.81), George Town, Cayman Island and the Meeting International Region Guadeloupe (12.77), Pointe-a-Pitre, Gaudeloupe; unfortunately, at the BT Great CityGames in Manchester, England, Harper-Nelson did not finish, as she hit the third hurdle and fell.
GIVING IS GOOD, ESPECIALLY FOR A CURE!
Twenty-six million people in the United States have diabetes, and Olympian and Three-time IAAF Diamond League Champion Dawn Harper Nelson (USA) is no stranger to the disease. The Nike sponsored athlete has partnered with the American Diabetes Association (ADA) because of her personal experience with diabetes, as her beloved family members- grandparents and eldest aunt- battle the disease daily, with her grandfather dying after being in a diabetic coma. Harper Nelson is encouraging everyone to participate in the Tour de Cure event, a bike ride through southern California to raise money to find a cure and improve the lives of all people affected by the disease, on

Saturday, Sept. 13

. For more information on how to form a team or join a team, visit
www.diabetes.org/tourdecure
.
COME VISIT ME @ MY WEBSITE!
Olympian and Three-time Diamond IAAF League Champion Dawn Harper Nelson (USA) launched her website,
www.dawnharpernelson.com
, on

Wednesday, Aug. 6

. The website captures the true essence of Harper Nelson. When people see her on the track Harper Nelson is seen as an intense competitor, but what is not seen is the softer side of her, as she enjoys laughing and storytelling. Visitors to the site will be able to take a professional and personal journey with her. Visitors are also invited to follower her on Twitter, @dharp100mH, and like her on Facebook,
www.facebook.com/ dawnharpernelson
.
NEXT UP
Celebration of Dawn Harper Day!
Former Illinois Governor Rod R. Blagojevich proclaimed

Oct. 6

, "Dawn Harper Day" for the state of Illinois.
Quote
2014 IAAF Continental Cup - "I am really very excited to represent the continent in the Continental Cup. It is really an awesome feeling to represent your country at the Olympics that I cannot explain. And, to be invited to compete for the continent, it blows your mind. I look forward to it and want to concentrate on running my own race. This has been a great season! My coach and I knew worked so hard." – Olympian and Three-time IAAF Diamond League Champion in the 100-meter Hurdles Dawn Harper Nelson
For interview requests, contact
----------
-->