• Legendary Gebrasealssie to Return to Great Scotish Run Where he Posted 61:09 in HM a Year Ago

Posted by:
Thursday, 11 September 2014
Legendary Ethiopian runner Haile Gebraselassie is set to return on October 5 at the Great Scottish Run in Glasgow, where he set the course record of 61:09 in the half marathon last year.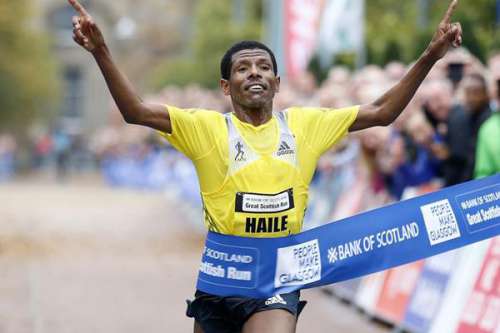 "I have fantastic memories of my first race in Scotland and I am delighted to be coming back to race in the Bank of Scotland Great Scottish Run for a second time," said Gebrselassie. "It's a great race with a great atmosphere and the organisation is superb." Said the 41 year old Gebraselassie.
In his career the Ethiopian superstar set 27 world records ranging from two miles up to the marathon. In addition, Gebraselassies has won two Olympic and four World championship gold medals.
"I have fantastic memories of my first race in Scotland and I am delighted to be coming back to race in the Bank of Scotland Great Scottish Run for a second time," said Gebrselassie. "It's a great race with a great atmosphere and the organisation is superb."
Asked how about training and racing at high level at age of 41 Gebraselassies replied:" "I had a problem earlier this year - I had a small surgery to my knee – but that is gone now. My training is going well. When you are an older athlete you have to be serious in your training and in how you take your rest and how you are preparing, but I am still doing well at 41."
Relive The Great Scottish Run