Gatlin Continues Win Streak in Rieti

Posted by:
Watch Athletics
Sunday, 07 September 2014
American sprinter Justin Gatlin, who two days ago claimed Brussels Diamond League sprint trophy, continued his win streak with a victory over 100m in Rieti on Sunday.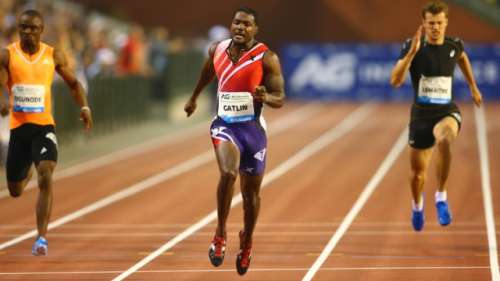 Gatlin won the heat 2 with mark of 9.83 seconds beating Nesta Carter of Jamaican, who crossed the line in 10.07 seconds and France's Christophe Lemaitre who was in distant third after 10.15 seconds.
"It was my last race of the season, it went really well," Gatlin told AFP. "Tired? When the times are good like in the 100m and 200m in Brussels, I feel good."
Gatlin has been dominating sprint events this season by winning all 19 of his individual races and holding world leading marks in 100m of 10.77 and in 200m of 19.68 seconds
The earlier heat 1 won the former world record holder Asafa Powell of Jamaica, who clocked 9.90 seconds with Femi Ogunode of Qatar in second place in 10.05 seconds.
Heat 2
| | | | | |
| --- | --- | --- | --- | --- |
| 1 | GATLIN Justin | | | 0.160 |
| 2 | CARTER Nesta | | | 0.153 |
| 3 | LEMAITRE Christophe | | | 0.139 |
| 4 | HARVEY Jacques | | | 0.148 |
| 5 | FRASER Warren | | | 0.136 |
| 6 | DWYER Rasheed | | | 0.159 |
| 7 | NASCIMENTO Yazaldes | | | 0.163 |
| 8 | OBOU Delmas | | | 0.171 |
Heat 1
| | | | | |
| --- | --- | --- | --- | --- |
| 1 | POWELL Asafa | | | 0.164 |
| 2 | OGUNODE Femi | | | 0.167 |
| 3 | BAILEY Ryan | | | 0.155 |
| 4 | ROBERTS Gil | | | 0.139 |
| 5 | SMELYK Serhiy | | | 0.155 |
| 6 | TUMI Michael | | | 0.133 |
| 7 | FERRARO Massimiliano | | | 0.160 |
-->