Gatlin Goes for Sprint Double in Brussels

Posted by:
Watch Athletics
Thursday, 04 September 2014
American sprinter Justin Gatlin have picked to race in both sprint events at the final IAAF Diamand Lague meet in Brussels on Friday, September 5.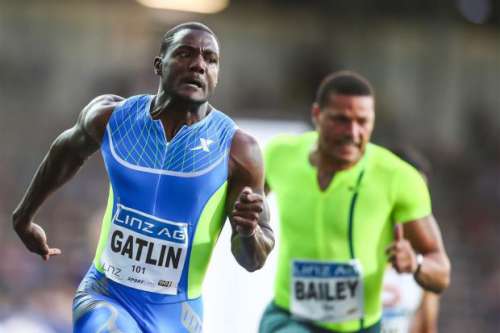 Gatlin holds word's season best times in the 100m of 9.80 and in the 200m of 19.68 seconds and tomorrow will face a strong opposition of the top Jamaican sprinters.
Also in the field is the 2007 world 100m and 200m champion Tyson Gay of the United States, who recently returned to action after serving one year doping ban and Kim Collins of Saint Kits and Navis, who at age of 38 on July 20th at the London Anniversary games set a new national record of 9.96.
Gatlin this season has raced 14 times in 100m and twice in the 200m and so far has not been defeated.
On July 3 at Lausanne DL Gatlin set a 100m world lead of 9.80 seconds and two weeks later in Monaco the 32 year old sprinter set another world leading mark and PB in the 200m of 19.68 seconds.
100m Entries
| ATHLETE | DATE OF BIRTH | NATION | PB | SB |
| --- | --- | --- | --- | --- |
| BAILEY-COLE Kemar | 10.01.1992 | JAM | 9.93 | 9.96 |
| CARTER Nesta | 10.11.1985 | JAM | 9.78 | 9.96 |
| COLLINS Kim | 05.04.1976 | SKN | 9.96 | 9.96 |
| DASAOLU James | 05.09.1987 | GBR | 9.91 | 10.03 |
| GATLIN Justin | 10.02.1982 | USA | 9.79 | 9.80 |
| GAY Tyson | 09.08.1982 | USA | 9.69 | 9.93 |
| POWELL Asafa | 23.11.1982 | JAM | 9.72 | 9.87 |
| RODGERS Michael | 24.04.1985 | USA | 9.85 | 9.91 |
| THOMPSON Richard | 07.06.1985 | TTO | 9.82 | 9.82 |
200m Entries
| ATHLETE | DATE OF BIRTH | NATION | PB | SB |
| --- | --- | --- | --- | --- |
| BAILEY Ryan | 13.04.1989 | USA | 20.10 | 20.37 |
| EDWARD Alonso | 08.12.1989 | PAN | 19.81 | 19.84 |
| GATLIN Justin | 10.02.1982 | USA | 19.68 | 19.68 |
| LEMAITRE Christophe | 11.06.1990 | FRA | 19.80 | 20.08 |
| MAKWALA Isaac | 29.09.1986 | BOT | 19.96 | 19.96 |
| MITCHELL Curtis | 11.03.1989 | USA | 19.97 | 20.13 |
| OGUNODE Femi | 15.05.1991 | QAT | 20.06 | 20.06 |
| SMELYK Serhiy | 19.04.1987 | UKR | 20.30 | 20.30 |
| ZALEWSKI Karol | 07.08.1993 | POL | 20.41 | 20.42 |
-->