World's fastest marathon runner Geoffrey Mutai of Kenya will return to action this Saturday at the Birell Prague Grand Prix 10km road race.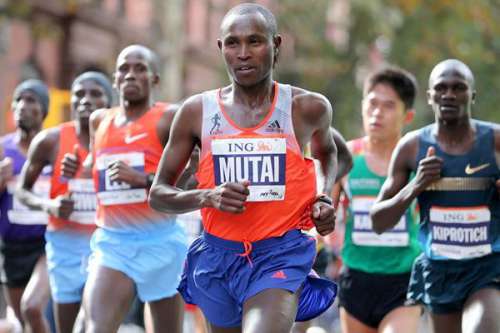 Mutai has set his goal this season to defend his New York marathon title in November and will use Prague's 10km to sharpen his speed.
"I have done enough training and will be keen to assess my speed. Winning is important but the crucial thing will be to test my body and see how it responds in such events with top stars around," said Mutai Friday.
At the Bosston marathon iseveral years ago Mutai clocked a sensational 2:03.02, but his time was not ratified by the IAAF, becasue the course had steep start and finish points.
Last time Mutai raced was this year in April at the London marathon where he took a disappointing 5th place.
Mutai who holds 10km PB of 27:19 will face a relatively less known runner Geoffrey Ronoh, who posted 60:17 in Olomouc, Czech Republic half marathon, and then set a personal best of 59:45 in Klagenfurt, Germany, last weekend. Also in the field and will battle for the win is Daniel Chebii who has clocked 27:35 over 10km.
-->