Alekna at 42 Ends His Brilliant Career

Posted by:
Watch Athletics
Monday, 01 September 2014
History's one of the greatest discus throwers, Virgilijus Alekna of Lithuania, put an end to his brilliant career as a discus thrower on Sunday at the ISTAF Berlin World Challenge meet.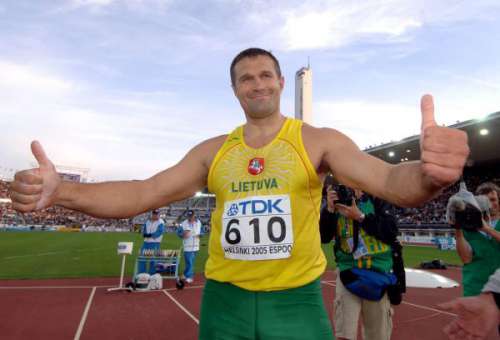 Alekna in his final meet threw 61.84mand finishing in 7th place.
"It feels a bit sad but I was competing for a very long time," said the 42-year-old Alekna. "Berlin was the right place to close up my long career because it is the place where I started so many times and it is a nice venue."
Alekna in his career won 2 Olympic golds in Sydney in 2000 and in Athens in 2004 and added Olympic bronze medal in 2008 in Beijing. At the World championships Alekna won 2 golds in 2003 and in 2005, but in 1997 and 2001 Alekna won silver medals.
His impressive personal best mark of 73.88m stands as Lithuania's national record and history's second all time best mark behind Germany's Jurgen Schult's world record of 74.08m. The 2.00m tall Lithuanian, who also won 2006 European title, has thrown discus over 70m mark in 21 competitions.
-->