The former world 100m champion and #2 all time fastest 200m sprinter, Yohan Blake, has suffered only a cramp in his hamstring at the Friday Glasgow Diamond Leavgue meeting says athletes manager.
Blake who ran the 100m on Friday night at the Glasgow Grand Prix pulled up in the middle of the race and fell on the track and later only with assistance was escorted from the stadium. The race was won by Blake's countryman Nickel Ashmeade who posted 9.97 seconds.
"It seems to be initially cramp. The doctors here in Glasgow were excellent. They did an ultra-scan, and it showed no damage. Today, we will do a major scan and MRI to be certain and complete." reported athletes agent on Sunday.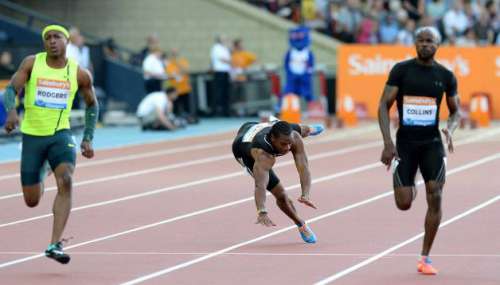 Blake pools up and falls during the 100m race at the Glasgow Grand Prix on Friday.