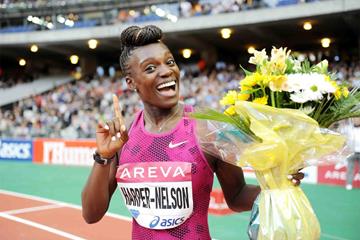 (Paris, July 5, 2014) – U.S.A. 100-meter hurdler Dawn Harper Nelson takes first place at the IAAF Diamond League – Meet Areva in Paris with a time of 12.44, which set a new world lead time. 
"I am putting my races together and understanding what it takes to be consistent in putting my race together in a faster time zone.  Paris has a fast track.  I knew if I executed my time would be a world lead," said the two-time Olympic medalist.
The previous 2014 world lead time, 12.53 seconds, was set by Brianna Rollins at the Rome meet in June, where Harper Nelson placed second by one hundredth of a second.
"What I did right in this race was I put together my start, stayed very consistent, and pushed a little better at the end than I did at Nationals and other races.  That was the biggest factor for me today. But I felt good and ready to go. I had to put it all out there. " 
Harper Nelson felt a little fatigue, but knew she needed to be mentally tough to pull out the win.  Coming in second place with a season best was Queen Harrison (USA) at 12.46 seconds and Lolo Jones (USA) in third place 12.68 seconds.
Right now, Harper Nelson is at the top of the IAAF Diamond League leader board with eight points.  Behind her by one point is Harrison with seven points, Rollins four points, and Jones two. 
#          #          #
Eaddy Perry & Associates, Inc.
TEL+1704.965.6956 WC TEL+1310.709.9389/FAX+1704. 631.4564
[email protected]
www.eaddyperry.com

Associates in Charlotte, NC (HQ), Florence, SC, Atlanta, Los Angeles, & New York