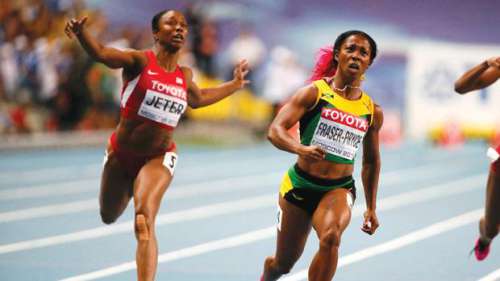 Carmelita Jetter world's all time #2 100m sprinter (10.64sec) and world's #4 (10.70) all time Shelly-Ann Fraser-Pryce will clash at the Diamond League meeting Sainsbury's Grand Prix in Glasgow scheduled for July 11-12.
Jetter, who won three Olympic medals at the London Olympic games made her first appearance of the year on June 15 in Chula Vista San Diego, CA where she clocked 11.27 seconds.

"With the standard of women's sprinting improving all the time, I've got to have my eyes on all seven of the athletes that line up against me on the start line at the Sainsbury's Glasgow Grand Prix.Said Jetter.
Jamaica's Olympic 100m, 200m, champion Shelly-Ann Fraser-Pryce who is recovering right now from a minor hamstring injury posted season's best mark of 11.12 seconds at the Diamond League meet in Doha in May.
So far 22 world champions and many Olympic champions have signed up to compete in Glasgow on July 11-12.
-->