• Olympic 800m Bronze medallist Poistogova Strated Season With 2:43.92 in 1000m

Posted by:
Watch Athletics
Wednesday, 08 January 2014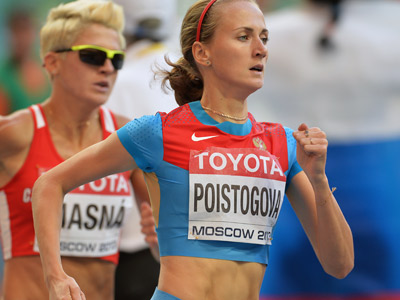 The Russian Indoor Season Kicked of on Tuesday with Christmas Starts in the city of Yekaterinburg.
The competition highlighted Yekaterina Poistogova, the Lonodn Olympics 800m bronze medallist, who won the women's 1000m race in 2:43.72 in her first race since September 3. 
The second place in the women's 1000m race took Yevgeniya Zinrunova, who clocked 2:44.72. Infact,  in 2011, Zinrunova was handed a  2 year ban  for the use of a prohibited substance, her ban ended on the 12th of September in 2013.
Another notable results
MEN TOP PERFORMANCES 
60m 
300m
1000m
| | | | | | | | | |
| --- | --- | --- | --- | --- | --- | --- | --- | --- |
| 1 | Stepan Poistogov | RUS | 2:20.59 | |   | PB WL | | |
| | | | | | | | | |
| --- | --- | --- | --- | --- | --- | --- | --- | --- |
| 2 | Andrey Loginov | RUS | 2:23.64 | |   | SB | | |
| 3 | Danyil Strelnikov | RUS | 2:23.96 | |   | PB | | |
3000m
1
Yegor Nikolayev
RUS
7:51.96


 
SB WL




2
Konstantin Vasilyev
RUS
7:57.48


 
PB




3
Andrey Minzhulin
RUS
8:07.48


 
SB




4
Dmitriy Balashov
RUS
8:08.79


 
PB




5
Andrey Rukavtsov
RUS
8:09.47


 
SB




6
Vyacheslav Sokolov
RUS
8:09.87


 
PB


 High Jump
| | | | | | | | | |
| --- | --- | --- | --- | --- | --- | --- | --- | --- |
| 1 | Arseniy Rasov | RUS | 2.24 | |   | PB | | |
| 2 | Ivan Ilyichev | RUS | 2.24 | |   | SB | | |
WOMEN Top Performances
60m
1
Yekaterina Voronenkova
RUS
7.41


 
PB




2
Natalya Shishkova
RUS
7.48


 
PB




3
Krisztina Khorosheva
RUS
7.49


 
SB




4
Mariya Serkova
RUS
7.59


 
SB


300m
1
Marina Chernova
RUS
37.27


 
PB




3

Tatyana Veshkurova
RUS
37.66


 
SB




2

Alena Tamkova
RUS
37.40


 
PB




4

Yekaterina Voronenkova
RUS
37.42


 
PB


1000m
| | | | | | | | | |
| --- | --- | --- | --- | --- | --- | --- | --- | --- |
| 1 | Yekaterina Poistogova | RUS | 2:43.92 | |   | SB WL | | |
| 2 | Yevgeniya Zinurova | RUS | 2:44.72 | |   | SB | | |
| 3 | Olga Lvova | RUS | 2:45.30 | |   | PB | | |
| 4 | Olga Nitsina | RUS | 2:48.80 | |   | PB | | |