• 82 Year Old Ed Whitlock and 64 Year old Yoshihisa Hosaka Make some History in Toronto

Posted by:
Watch Athletics
Sunday, 20 October 2013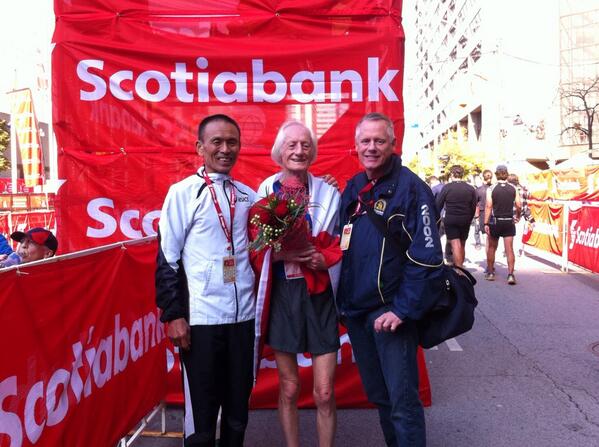 The 82 year old Canadian long distance runner Ed Whitlock set a new age group world record when he clocked 3hours 41min and 58 seconds at the Toronto marathon on Sunday, October 20. The Canadian averaged 5 minutes and 16 seconds per kilometer or 7.08 minutes per mile.
Another master-peace performance came from the 64 year old Japanese runner Yoshihisa Hosaka who clocked an impressive sub 3h marathon of 2:50:44. Hosaka ran with an average pace of 4:03 minutes per every km or 6:31 per mile. That also should be some sort of a record.
Ed Whitlock Splits

| | | | | | | |
| --- | --- | --- | --- | --- | --- | --- |
| Marathon | KM Pace | 10km | Half Marathon | 30KM | 35KM | 40KM |
| 3:41:58 | 5:16 | 00:49:05 | 01:44:31 | 02:30:16 | 02:57:43 | 03:27:24 |
Yoshihisa Hosaka Splits

| | | | | | | |
| --- | --- | --- | --- | --- | --- | --- |
| Martahon | KM Pace | 10KM | Half Marathon | 30KM | 35KM | 40KM |
| 2:50:44 | 4:03 | 00:38:16 | 01:22:35 | 01:59:50 | 02:20:49 | 02:42:06 |
Image Source: Link via Twitter