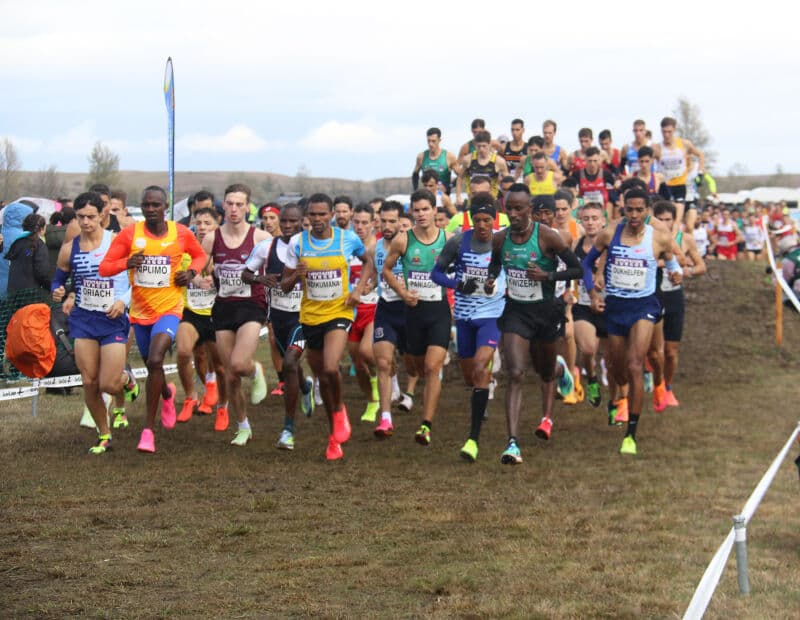 In the face of inclement weather marked by strong winds and rain, reigning world cross country champions Jacob Kiplimo and Beatrice Chebet showcased their prowess by clinching wins at the Cross Internacional de Atapuerca. This meet was the second World Cross Country Tour Gold race of the 2023/2024 season.
Women's Race: Beatrice Chebet, who had previously secured a bronze medal in the 5000 metres in Budapest 2023, continued her impressive streak by winning the Atapuerca competition for the second time in a row.
The women's 8 km race saw Chebet, Edinah Jebitok, and Lucy Maiwa as the early frontrunners. However, Maiwa fell behind and was overtaken by Sarah Chelangat towards the close of the first km.
A tightly packed race had Chebet and Jebitok covering the initial 2 km lap in just 6:06. Their pace slightly reduced, allowing Chelangat and recent Amorebieta winner, Likina Amebaw, to join the lead pack.
As the race neared its climax, Chebet made a decisive move 500 metres before the bell, creating a lead that saw her three seconds ahead of Amebaw, six seconds over Chelangat, and eight seconds ahead of Jebitok.
Determinedly extending her lead in the final lap, Chebet stormed to the finish line with a time of 25:21. She was followed by Chelangat at a 15-second difference, while Jebitok sealed third place with 25:44. Amebaw completed the race in 26:06.
Men's Race: The men's race was equally electrifying, with Ronald Kwemoi, the world under 20 1500 metres record holder, setting a brisk pace from the onset, creating a significant 40-metre gap over Olympic 10000 metres bronze medallist, Jacob Kiplimo.
Kiplimo, showcasing his commendable endurance and strategy, bridged the gap to Kwemoi post the third km mark. Demonstrating an incredible burst of speed during the penultimate lap, the Ugandan champion carved a 13-second lead over both Kwemoi and Rodrigue Kwizera, the winner of the World Athletics Cross Country Tour.
Maintaining and amplifying his lead in the final stages, Kiplimo dominated and finished with a time of 26:00, 15 seconds clear of Kwemoi. Kwizera concluded his race at 26:16, with Celestin Ndikumana, the previous winner at Amorebieta, finishing in 26:47. Leonard Chemutai, Ugandan 3000 metres steeplechaser, snatched fifth place with a time of 26:48, edging out Israel's Tadesse Getahon, who also clocked the same time.
-->