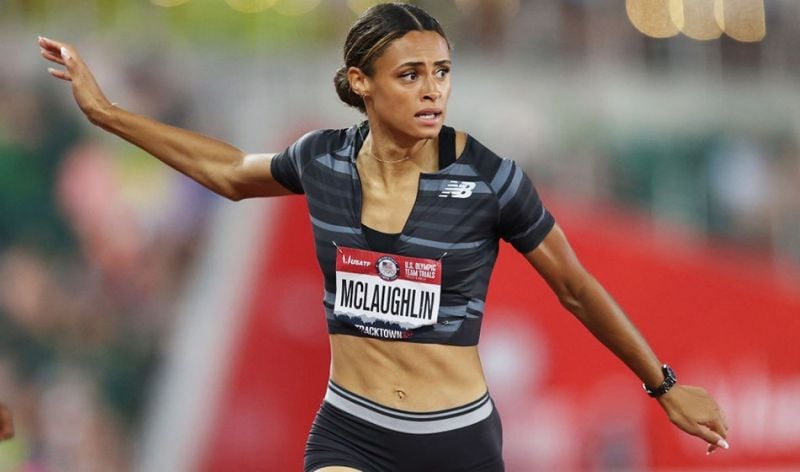 Sydney McLaughlin-Levrone became the 10th Fastest All-Time over 400m with 48.74 seconds to win her first USATF national title in the 400m on Saturday in Eugene Oregon.
McLaughlin-Levrone, 23, performed outstandingly. She clocked 49.79 in the opening round on Thursday and 49.67 in the semi-finals. She smashed her personal best by one second to win the final on Saturday.
"The greats always push themselves, and I want to be one of them, so I have to push myself and get out of my comfort zone," McLaughlin told NBC. "I'm just happy to be here."
The top three women in the women's 400m final broke the 50-second barrier as Britton Wilson took second place in 49.79 and Talitha Diggs finished third in 49.93.
Results: USATF Outdoor Championships
Women's 400m Final - Saturday, July 8
| POS | NAME | RESULT |
| --- | --- | --- |
| 1 | Sydney McLaughlin-Levrone New Balance WCS | 48.74 WL MR PB |
| 2 | Britton Wilson Arkansas WCS | 49.79 |
| 3 | Talitha Diggs adidas WCS | 49.93 PB |
| 4 | Lynna Irby-Jackson adidas WCS | 50.11 SB |
| 5 | Rosey Effiong Arkansas WCS | 50.41 |
| 6 | Makenzie Dunmore Tracksmith WCS | 50.96 |
| 7 | Jermaisha Arnold Texas A&M WCS | 51.12 |
| 8 | Quanera Hayes NIKE | 51.50 |
Elsewhere:
Nia Ali, the 2016 Olympic silver medallist and 2019 world champion, clocked 12.37 (0.4m/s) to win the 100m hurdles final. Keni Harrison, a silver medalist at the Olympics and world championships, finished second in 12.42 and Masai Russell, a record-holder in the NCAA, finished third in 12.46.
The women's 1,500m final was a very exciting race. At the bell lap, Athing Mo, the Olympic and World 800m champion, took the lead. In the last 50m of the race, Nikki Hiltz emerged victorious over Athing Mu in 4:03.10. Mu posted her personal best time of 4:03.44. Before these championships, Mu's personal best in the 1500 was 4:16. For the final spot at worlds, Cory McGee held off Sinclaire Johnson who dove for the finish line.
American record holder Yared Nuguse's stellar 2023 season continued today with a win in the 1500m in 3:34.90. With 350m to go, Nuguse took the lead and won his first USA Track and Field national title.
Bryce Deadmon won the men's 400 on Saturday setting his personal best of 44.22, while Curtis Thompson threw 80.92 / 265-6 to claim the javelin US national title. Rudy Winkler took the hammer throw with a very solid effort of 79.04 (259-4), while Marquis Dendy won the long jump in 8.14 (26-8 ½).
Men's 400m Final Video:
A winning 19.92m throw by Maggie Ewen in the final round of competition illustrated the power of the US women's shot put team. Adelaide Aquilla was second with a 19.02m performance and Jalani Davis (18.62m) was third.
Olympic and world silver medallist Chris Nilsen carried on to dominate in the men's pole vault, clearing 5.91m to win his third consecutive USA Track and Field outdoor title. Zach McWhorter finished second with a PB height of 5.86m and Zach Bradford third (5.81m).
Both the men's and women's steeplechases produced thrilling comeback finishes. The 2023 NCAA champion Kenneth Rooks of BYU took a hard fall two laps into the race, stood up, made his way up to the front of the pack, and then crushed his opponents to win the men's 3000m steeple national title in 8:16.78, his personal best.
In the women's steeplechase final, Krissy Gear blew past both leaders Courtney Wayment and the defending champion Emma Coburn to win in 9:12.81. Gear smashed her personal best time by more than ten seconds and moved to the #6 spot on the US all-time list. Coburn, a nine-time US champion, finished second, while Wayment rounded out the podium.
After winning the 100 meters the day before, Sha'Carri Richardson showed no signs of tiring by posting a 21.61 second wind-assisted time in the 200m first round. Only four women have recorded that time or run faster in any wind condition.
Results: USATF Outdoor Championships
-->