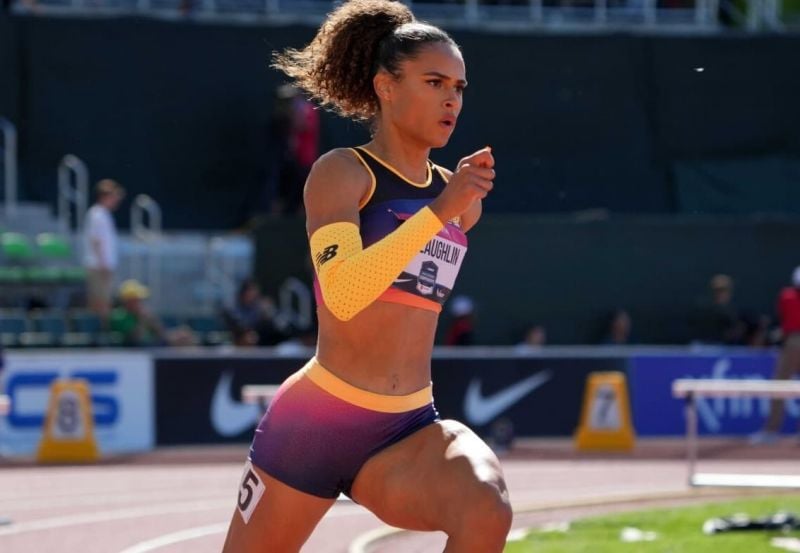 Sydney McLaughlin-Levrone won her 400m heat resoundingly on the opening day of the 2023 USA Track and Field Championships in Eugene, Oregon on Thursday (6).
In the third heat, the 23-year-old clocked an impressive 49.79 to win easily.
Overall, McLaughin's time was fastest overall out of all four heats, ahead of Britton Wilson's 50.08 and Lynna Irby-Jackson's 50.80.
A 400m semi-final is scheduled for Friday, 7 July and a 400m final for Saturday, 8 July.
As the defending champion in the women's 400m hurdles, McLaughlin-Levrone has a wildcard entry to next month's World Championships. Despite this, she has not yet competed in her favorite event.
VIEW ALL USATF CHAMPIOSNHIPS RESULTS
Women's 400m Hurdles 1st Round
| POS | NAME | RESULT | PL(Heat) |
| --- | --- | --- | --- |
| 1 | Sydney McLaughlin-Levrone | 49.79 Q | 2 ( 1 ) |
| 2 | Britton Wilson | 50.08 Q | 1 ( 1 ) |
| 3 | Lynna Irby-Jackson | 50.80 Q | 1 ( 2 ) |
| 4 | Makenzie Dunmore | 51.07 Q | 2 ( 2 ) |
| 5 | Talitha Diggs | 51.31 Q | 3 ( 1 ) |
| 6 | Quanera Hayes | 51.32 Q SB | 2 ( 3 ) |
| 7 | Rosey Effiong | 51.35 Q 51.344 | 4 ( 1 ) |
| 8 | Jermaisha Arnold | 51.35 Q 51.347 | 3 ( 2 ) |
| 9 | Ziyah Holman | 51.38 Q | 1 ( 3 ) |
| 10 | Maya Singletary | 51.44 q PB | 2 ( 4 ) |
| 11 | Alexis Holmes | 51.51 Q | 3 ( 3 ) |
| 12 | Courtney Okolo | 51.56 Q SB | 4 ( 2 ) |
| 13 | Kendall Ellis | 51.70 q | 2 ( 5 ) |
| 14 | Wadeline Jonathas | 51.72 q SB | 3 ( 4 ) |
| 15 | Shae Anderson | 51.78 q SB | 1 ( 4 ) |
| 16 | Kiah Williams | 51.89 | 1 ( 5 ) |
| 17 | Paris Peoples | 51.95 Q | 4 ( 3 ) |
| 18 | Tierra Robinson | 52.01 | 2 ( 6 ) |
| 19 | Jan'Taijah Jones | 52.09 | 4 ( 4 ) |
| 20 | Taiya Shelby | 52.64 | 1 ( 6 ) |
| 21 | Bailey Lear | 52.78 | 4 ( 5 ) |
| 22 | Taylor Manson | 52.79 | 4 ( 6 ) |
| 23 | Shakima Wimbley | 52.96 | 2 ( 7 ) |
| 24 | Kaylin Whitney | 53.18 SB | 4 ( 7 ) |
| 25 | Jada Griffin | 53.44 | 3 ( 5 ) |
| 26 | Brittany Aveni | 53.88 | 1 ( 7 ) |
| 27 | Na'Asha Robinson | 54.34 | 3 ( 6 ) |
| 28 | Latasha Smith | 54.53 | 3 ( 7 ) |
| 29 | Ava Alexande | 57.46 | 4 ( 8 ) |
-->