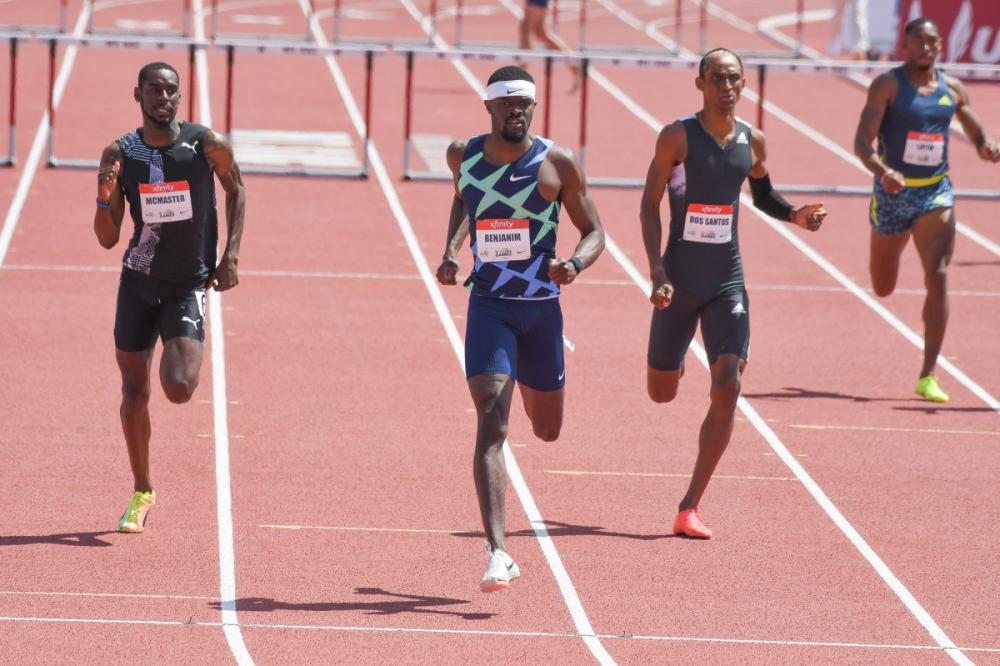 World championships and Olympic games silver medalist Rai Benjamin from the United clocked a World-leading 47.74 seconds to win the 400m hurdles at the Mt. Sac Relays on Saturday (15).
Benjamin's winning time also broke the meet record of 48.49 seconds set 21-year-ago by Chris Rawlinson of Great Britain.
Cass Elliott from the University of Washington finished second with 49.65 seconds. Guillermo Campos Ornelas of Mexico was third with 49.73 seconds.
Men's 400m Hurdles Invitational Results
| Place | Athlete | Time | Heat |
| --- | --- | --- | --- |
| 1 | Rai Benjamin Nike | 47.74 | 2 |
| 2 | Cass Elliott Washington | 49.65 | 2 |
| 3 | Guillermo Campos Ornelas Mexico | 49.73 | 2 |
| 4 | Caleb Cavanaugh Georgia | 49.92 | 2 |
| 5 | Shakeem Smith Bahamas | 50.09 | 2 |
| 6 | Rivaldo Leacock UNAT-New Mexico | 50.30 | 2 |
| 7 | Jonathan Birchman Washington | 50.61 | 1 |
| 8 | Bryce McCray Texas A&M | 50.69 | 2 |
| 9 | Jared McAlvey Washington St. | 51.63 | 2 |
| 10 | Robert Williams Illinois | 51.68 | 1 |
| 11 | Shareez Hamm Academy of Art | 51.82 | 2 |
| 12 | Reyte Rash Cal St. Fullerton | 51.93 | 1 |
| 13 | Jimmy Harkelroad University of Akron | 52.07 | 1 |
| 14 | James Smith II Texas A&M | 52.56 | 1 |
| 15 | Deyondre Davis Idaho | 52.90 | 1 |
| 16 | Matthew Wilkinson Washington | 52.96 | 1 |
| 17 | Drake Woody Unattached | 53.16 | 1 |