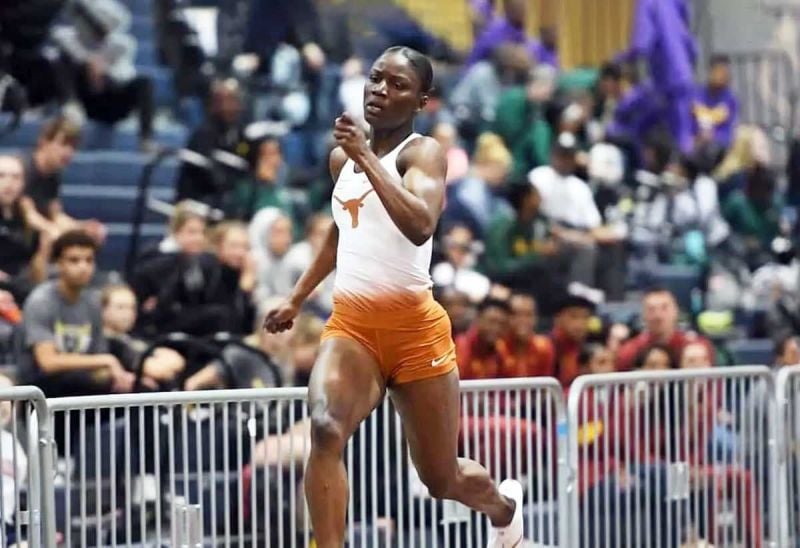 Julien Alfred stormed to a new St. Lucia national record of 21.91 seconds to win the 200m at the 2023 Tom Jones Memorial Invitational on Friday (14).
Julien Alfred, who runs for the University of Texas, continued her outstanding 2023 at Tom Jones Memorial Invitational in Gainsville, Florida. The NCAA Indoor 200m champion, with a dominant run in the women's 200-meter collegiate division race, clocked an impressive world-leading 21.91 seconds (+1.8 m/s).
Alfred's winning time not only crashed her previous outdoor lifetime best and St. Lucian national record of 22.46 seconds but also moved her to the No. 2 place in NCAA history.
Women's 200m Top Results - Tome Jones Memorial
Place
Athlete
Time
Heat
1
Julien Alfred Texas
21.91

+1.8 m/s

1
2
Lanae Thomas Texas
22.30

+3.6 m/s

2
3
McKenzie Long Ole Miss
22.31

+1.8 m/s

1
4
Rhasidat Adeleke Texas
22.34

+1.8 m/s

1
5
Kevona Davis Texas
22.47

+1.8 m/s

1
6
Jacious Sears Tennessee
22.56

+3.6 m/s

2
7
Thelma Davies LSU
22.64

+1.1 m/s

3
8
Ezinne Abba Texas
22.66

+3.6 m/s

2
9
Karimah Davis Kentucky
22.68

+3.6 m/s

2
10
Dajaz Defrand Florida State
22.77

+1.1 m/s

3
Tom Jones Memorial Invitational all results
-->