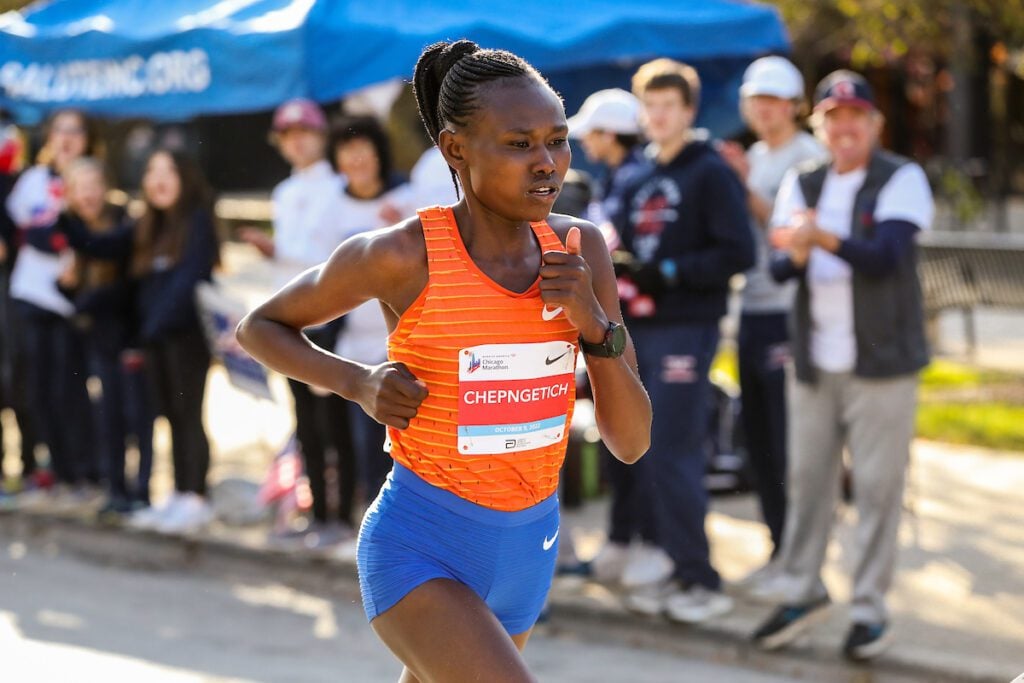 Both course record holders will return to the N Kolay Istanbul Half Marathon on 30th April: Organisers from Spor Istanbul announced today that Ruth Chepngetich and fellow-Kenyan Rodgers Kwemoi will head extraordinary strong elite fields next month. The marathon world champion from 2019 has established a unique win streak at the Bosphorus, which she will try to build on further: Ruth Chepngetich won the N Kolay Istanbul Half Marathon three times and triumphed in the N Kolay Marathon twice. In total she competed five times in these races and broke the course record on all occasions. When Ruth Chepngetich established the current half marathon mark of 64:02 in 2021 this was a world record as well. Rodgers Kwemoi will compete in Turkey's best quality elite road race for the second time. He improved the course record to 59:15 a year ago.
Currently nine men are on the start list who have already broken the hour mark and nine women feature personal bests of sub 67 minutes. This will remain one of the strongest line-ups in half marathon racing worldwide this year. The 18th N Kolay Istanbul Half Marathon is an Elite Label Road Race of World Athletics. General registration for the race is still possible until 10th April at: https://www.istanbulyarimaratonu.com/en/
Ruth Chepngetich has shown superb marathon form earlier this month, when she took the Nagoya women's race with a world-class 2:18:08. Seven weeks later the 28 year-old hopes to be ready for another super fast performance in Istanbul.
"I am super excited to come to the N Kolay Istanbul Half Marathon for the fourth time and to defend my title. I have always performed well in Istanbul and I am hoping to run another fast race if the weather cooperates," said Ruth Chepngetich, whose course record of 64:02 still is the Kenyan record while the world record now stands at 62:52.
To build on her Istanbul win-streak Ruth Chepngetich needs to be in top form on 30th April. A group of Ethiopians could challenge Kenya's running star. Just 21 years old Bosena Mulatie already has a strong personal best of 65:46. She ran this time in Ras Al Khaimah (United Aarab Emirates) last year, where she finished fifth. In the summer she achieved qualification for the World Championships and placed eighth in the 10,000 m final. Ethiopians Ftaw Zeray and Bekelech Gudeta feature personal records of 66:04 and 66:35 respectively. Gudeta ran her PB last year in Istanbul when she was third. Gete Alemayehu has been in fine form earlier this year, when she finished 12th in the challenging World Cross Country Championships. The Ethiopian has a half marathon PB of 66:37.
Besides Ruth Chepngetich there are a couple of more strong women from Kenya on the current start list. Evaline Chirchir is one of them. She ran 66:01 in Ras Al Khaimah (RAK) in 2020 when she was fourth. The 24 year-old did not compete for some time internationally, but ran a solid race in RAK last month with 67:15 for fifth place.
Rodgers Kwemoi is not only the course record holder but also the fastest athlete on the start list. The 25 year-old ran 58:30 when he was runner-up in RAK last year. After that race he broke the Istanbul course record by 20 seconds with 59:15 despite windy conditions. "My next goal in the half marathon is a time of 58:00," said Rodgers Kwemoi after this impressive win. He had no opportunity yet to reach that goal, so the N Kolay Istanbul Half Marathon could be the place for him to chase such a world-class time.
Among Rodgers Kwemoi's rivals there will be Amedework Walelegn, who has good memories of the N Kolay Istanbul Half Marathon as well. The Ethiopian was the winner in 2018 and at that time became the first runner to break the one hour barrier at the Bosphorus with a time of 59:50. Since then he has improved this PB to 58:40. The 24 year-old was in great form recently, when he first took the Sevilla Half Marathon with 60:28 and then won the Seoul Marathon in 2:05:27.
Recent road race results from Kenyans Charles Langat and Daniel Ebenyo have been impressive as well and suggest that they could be in contention for victory in Istanbul as well. Langat won the Barcelona Half Marathon in February with 58:53 and Ebenyo, who has a very fast 10k PB of 26:58, was runner-up in the Manama Half Marathon in Bahrain in December with 59:04.
Britain's Marc Scott is the fastest European runner on the start list. The 3,000 m bronze medallist from the World Indoor Championships 2022 ran 60:39 in Larne (Northern Ireland) three years ago for a runner-up spot behind Mo Farah.
-->