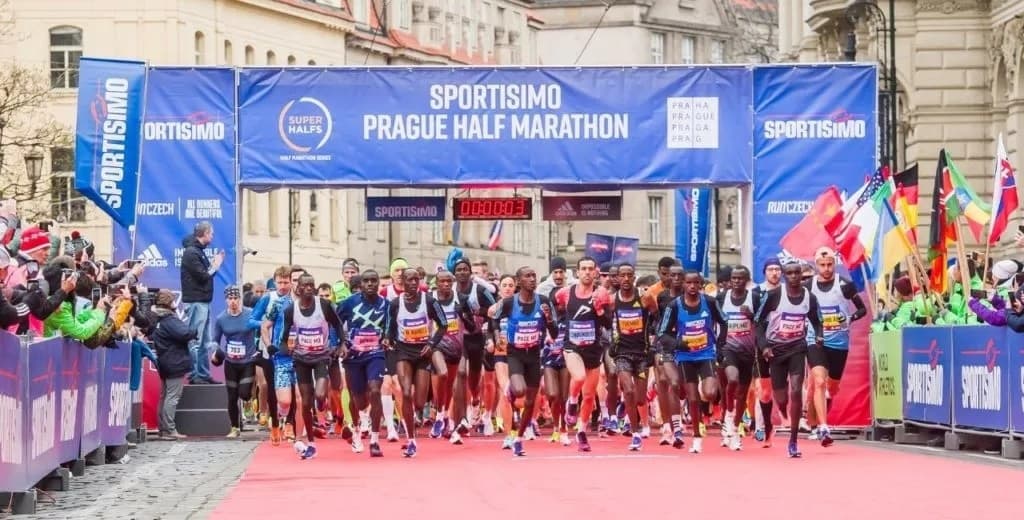 Organizers of the famous Prague Half Marathon have attracted world class men's and women's runners. The event is part of the the SuperHalfs series, which includes half marathons in Valencia, Cardiff, Copenhagen, and Lisbon.
Watch Prague Half Marathon Live Stream
Strong Kenyan, Ethiopian, and Ugandan runners will line up at the Prague Half Marathon alongside 12,000 participants.
The women's elite race is led by Irine Jepchumba Kimais of Kenya, who set the 8th fastest time in the history of 1:04:37 when winning the Barcelona Half one month ago. There is a total of five women with personal best time inside one 1 hour and 7 minutes.
The fastest runners in the men's race are Kenyans Bernard Kimeli, Roncer Kipkorir Kinga, and Geoffrey Kiutai Koech. All three of them hold personal best times within one hour.
Prague Half Marathon Elite Fields:
Elite Women
1. Irine Jepchumba Kimais (KEN) - 1:04:37
2. Ftaw Zeray Bezabh (ETH) - 1:06:04
3. Agnes Mumbua Ngolo (KEN) - 1:06:38
4. Nesphine Jepleting (KEN) - 1:06:57
5. Janeth Chepngetich (KEN) - 1:06:58
6. Ayandis Membratu Tadese (ETH) - 1:07:45
7. Sanayet Getachew Chekol (ETH) - 1:08:37
8. Moira Stewartova (CZE) - 1:10:14
9. Sintayehu Leweteng Hailemichael (ETH) - 1:10:23
10. Tereza Hrochova (CZE) - 1:12:04
Elite Men
1. Bernard Kimeli (KEN) - 59:07
2. Roncer Kipkorir Kinga (KEN) - 59:38
3. Geoffrey Kiutai Koech (KEN) - 59:36
4.Maxwell Kortek Roticj (UGA) - 1:00:20
5. Laban Kiplimo (KEN) - 1:00:34
6. Paulos Surafel (GBR) - 1:01:51
7. Parker Ray Stinson (USA) - 1:01:11
8. Omar Hassan Omar (DEN) - 1:03:23
9. Jiri Homolac (CZE) - 1:03:36
10. Mario Bauernfeind (AUT) - 1:03:38
-->