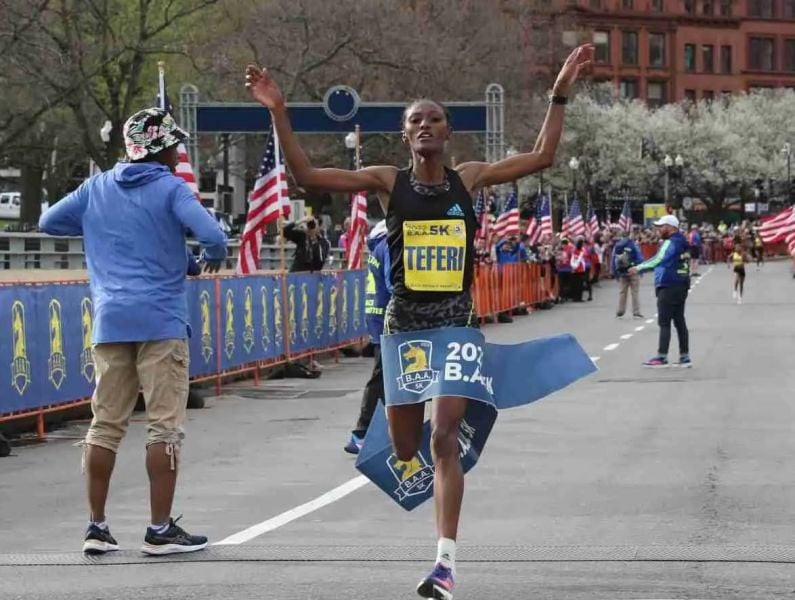 Senbere Teferi, the 5k world record holder, is among a group of African runners who form a strong women's elite field at the Vienna City Marathon. Austria's major road running event will be staged for the 40th time and it could well be the women who produce the headlines at the jubilee edition on 23rd April. The current course record of 2:20:59 will be a target if weather conditions are suitable on the day. Organisers of the Vienna City Marathon, which is the only World Athletics Elite Label Road Race in Austria, expect to register around 35,000 entries for their event. This includes races at shorter distances staged parallel to the marathon. Registration for all races is still possible at: www.vienna-marathon.com
Senbere Teferi brings plenty of promising speed to the marathon. The 27 year-old Ethiopian clocked 14:29 in a 5k race in Herzogenaurach (Germany) in 2021. This time still stands as a world record in a women only race. So far Senbere Teferi could not transform her exciting speed to the marathon. However she is eager to change this in Vienna this spring. "It is my aim to smash my personal best and win the race," said Senbere Teferi, who will run her third marathon in the Austrian capital. Back in 2018 she ran her debut in Dubai in 2:24:11 and then she clocked 2:25:22 in Tokyo in 2020. However her half marathon PB of 65:32 indicates that Senbere Teferi, who won silver medals at the World Cross Country Championships and in the 5,000 m final of the World Championships in 2015, should be capable of running significantly quicker.
Running a faster time is one thing, winning is another. The Vienna City Marathon will provide quite a challenge for Senbere Teferi. There are four Kenyans in the women's field who have run faster in the marathon than the Ethiopian. Visiline Jepkesho, Magdalyne Masai, Rebecca Tanui and Agnes Keino intend to add to Kenya's Vienna win streak. In the past five editions of the VCM the women's winner was always a Kenyan. A year ago Vibian Chepkirui broke the course record with a time of 2:20:59.
Visiline Jepkesho is the fastest on the current women's start list with a personal best of 2:21:37. The 33 year-old has plenty of experience in the marathon and will start a comeback in Vienna after giving birth to her two sons. She ran her PB when finishing fourth in Paris in 2017. Visiline Jepkesho has run four sub 2:23 marathons and took major victories in Rotterdam (2018) and Paris (2016).
Magdalyne Masai is another athlete who recently came back from maternity leave and who has been successful before the break. In 2019 she took the Toronto Marathon with a personal best of 2:22:16. Little over a week ago the 29 year-old showed fine form, when she clocked a half marathon PB of 67:07 in the Rome Ostia race finishing third.
Rebecca Tanui and Agnes Keino will travel to Vienna full of confidence, since both of them won their autumn marathon race with personal bests. Tanui triumphed in San Sebastián in 2:23:09 while Keino smashed the course record of the Munich Marathon with 2:23:26, leaving behind the former World Marathon Champion Mare Dibaba of Ethiopia. Keino then also won the Buri Ram Marathon in Thailand in January in 2:28:08, smashing another course record.
-->