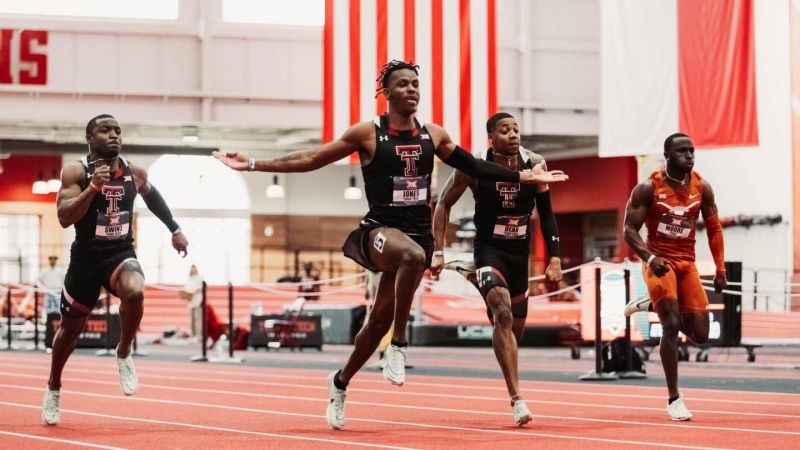 Terrence Jones lived up to the expectation on Saturday evening as the NCAA's 60m dash leader carried home the national title with a blazing time of 6.46.
After finishing 3rd in the semi-finals with 6.54 on Friday night, Jones wasted no time bringing the crowd to their feet, becoming the first Texas Tech 60m NCAA champion. With his winning time of 6.46, he has moved to NCAA all-time top 10 list.
Triple Jump Final
Jaydon Hibbert of Arkansas opened up the triple jump with a bang, bounding out to 17.54m (57-6½), breaking school and collegiate record of 17.40m (57-1) that had stood since 1985 set by Michael Conley.
Hibbert's mark is also a new world junior U20 record and a new Jamaican senior record.
Men's 200m and 400m finals
Matthew Boling from Georgia, after clocking the second-fastest time of his career during the prelims on Friday, Boling took control of the first heat and crossed the finish line in 20.12, with the nearest competitor Tarsis Orogot from Alabama coming across in 20.20.
Boling became the first repeat indoor champion for the Georgia Bulldogs after claiming gold in 2021.
Boling's teammate Elija Godwin won the 400-meter dash helping the Bulldogs to a runner-up finish in the team standings. His time of 44.75 seconds matched his school record and world-best time for this year — it also kept him at No. 5 on the all-time collegiate performers' list.
Ryan Willie from Florida also broke the 45-second barrier with a huge PB of 44.93 to take second as Matthew Moorer from Baylor was third with 45.08.