• 400m hurdler Shamier Little runs stunning 1:24.65 in the 600m as Britton Wilson sets NCAA record

Posted by:
Watch Athletics
Saturday, 14 January 2023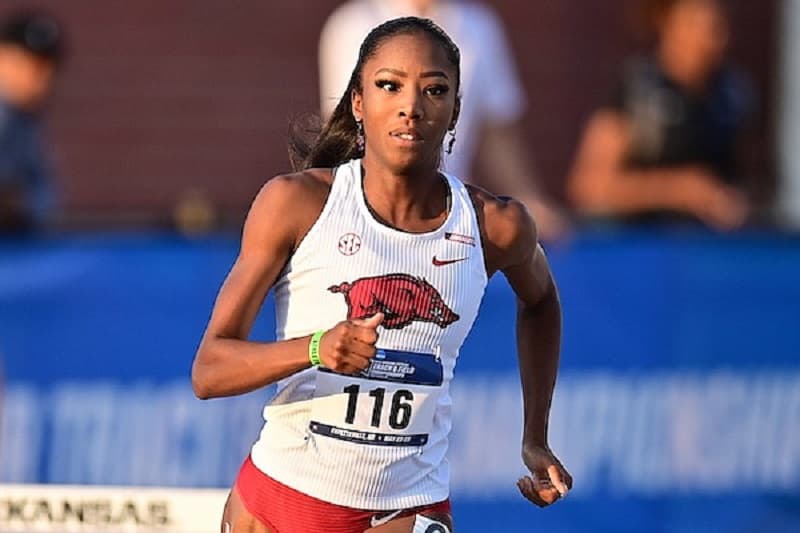 Britton Wilson who runs for the University of Arkansas broke Athing Mu's 600m collegiate record at the Arkansas Invitational on Friday (13) afternoon in Fayetteville, Ak.
The 22-year-old Britton Wilson, who won 4x400m gold at last year's World championships, kicked off her indoor season with a new US collegiate record of 1:25.16 in the women's 600m, smashed the previous record of 1:25.80 set by the World and Olympic 800m champion Athing Mu.
The event was won by 400m hurdler Shamier Little won the race in a massive 4.5sec personal best time of 1:24.65.
Little's time is 7th fastest while Wilson's mark is the 10th fastest in history.
Women's 600m heat 6 results:
Pl
Athlete
Time
200m
400m
600m
1
Shamier LITTLE
United States of America
1:24.65

25.06
[25.06]
53.04
[27.98]
1:24.65
[31.61]
2
Britton WILSON
Arkansas [SO]
1:25.16

25.23
[25.23]
53.06
[27.84]
1:25.16
[32.10]
3
Shafiqua MALONEY
Saint Vincent
1:27.45

25.66
[25.66]
53.86
[28.20]
1:27.45
[33.59]
4
Sanu JALLOW
Texas A&M [FR]
1:30.32

25.71
[25.71]
55.03
[29.32]
1:30.32
[35.29]
Complete Arkansas Invitational Results
Race Video