Ethiopians Ejgayehu Taye and Adisu Girma victorious in Barcelona

Posted by:
Watch Athletics
Saturday, 31 December 2022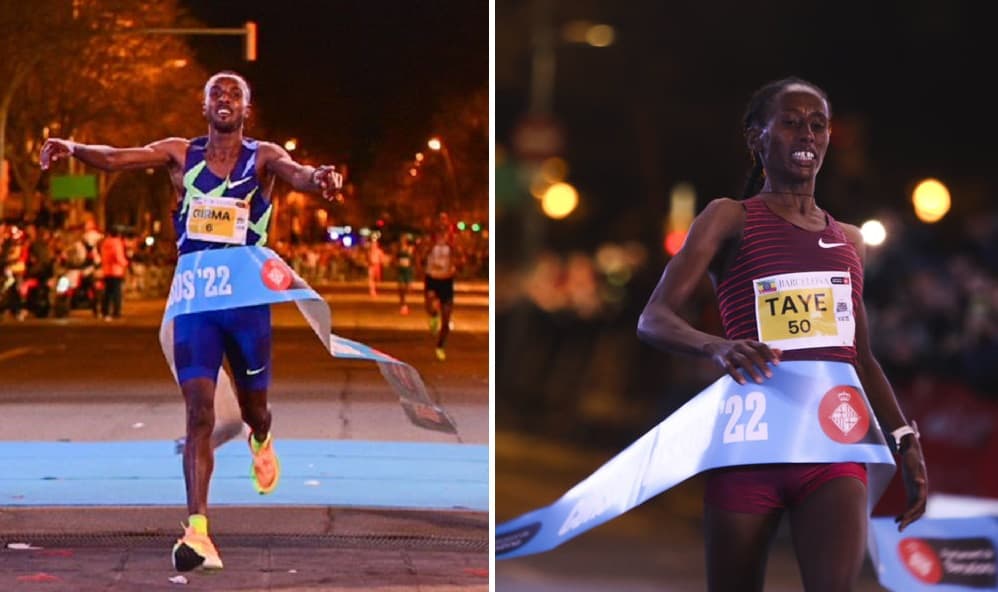 Ethiopians Ejgayehu Taye and Adisu Girma scored Ethiopian double at the Cursa Dels Nasso 5km road race on New Year's Eve in Barcelona on Saturday (31).
The last-minute withdrawal of Jakob Ingebrigsten left many fans disappointed, but the rest of the field did not disappoint as they put on a great show.
Eight runners quickly took off at the front in the men's race, followed by a chasing group where the female leaders found a fast pace.
The men's leading group clocked 5:22 at the 2km mark, well below the WR record, while in the women's race, Ethiopia's Ejgayehu Taye and Germany's Konstanze Klosterhalfen were still on target to break the World record. However, soon after, Klosterhalfen fell behind.
Spaniard Ilias Fifa made a surprise surge as he came from behind to take the lead at 4km mark (10:51). Ethiopia's Adisu Girma and Switzerland's Jonas Raess followed the Spanish runner. Nevertheless, with an impressive final switch of gear Adisu Girma in the final 500m managed to win the race in 13:25. Ilias Fifa took second in 13:30, and Switzerland's Jonas Raess finished third in 13:31.
Meanwhile, Ejgayehu Taye kept pushing the pace in the women's race, crossing the finish line in 14:21. She missed her world record of 14.19 by just 2 seconds. Konstanze finished second in 14:52, while Norway's Karoline Grøvdal finished third in 15:06.
-->