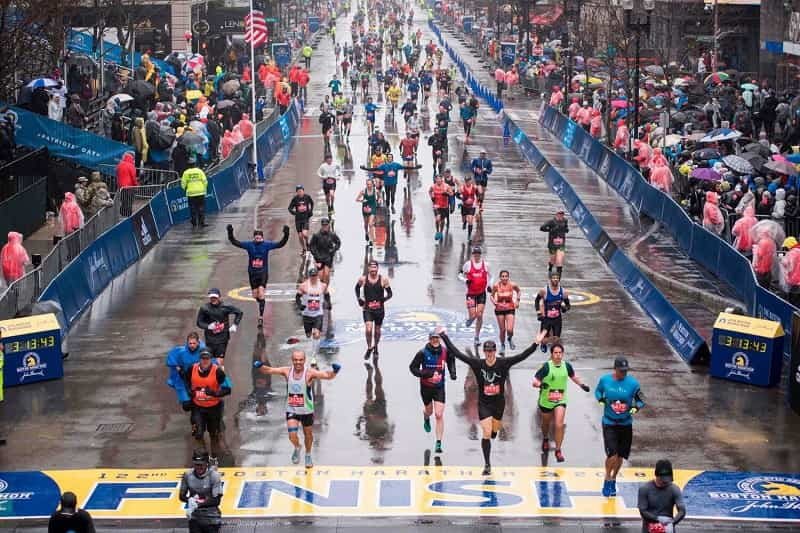 Results, tracking and leaderboard for the 2022 Boston Half Marathon.
Kenyans Geoffrey Koech and Viola Chepngeno were the 2022 Boston Half Marathon winners on Sunday, November 13.
The 29-year-old Koech, in the last 3 kilometers, broke away from a 4-man lead pack to win the Boston Half in 1:02:02. Koech smashed Lelisa Desisa's previous course record of 1:00:34 by more than 30 seconds. The 20-year-old Ethiopian Tsegay Kidanu (1:02:10) took 2nd, Morrocco's Zouhair Talbi (1:02:15), and 3rd.
Viola Chepngeno won the women's race with a time of 1:10:40. Ethiopians Bosena Mulatie (1:10:43) and Hiwot Gebrekidan (1:11:09) finished 2nd and 3rd, respectively.

You can also track runners, follow race leaders and search results on the official Boston Half Marathon app.
TOP RESULTS MEN HALF MARATHON
Geoffrey Koech (KEN) - 1:02:02
Tsegay Kidanu (ETH) - 1:02:10
Zouhair Talbi (MAR) - 1:02:15
Teshome Mekonen (ETH) - 1:02:28
Shadrack Kimining (KEN) - 1:02:39
Alberto Gonzalez Mindez (GTM) - 1:02:44
Yemane Haileselassie (ERI) - 1:03:01
James Ngandu (KEN) - 1:03:30
Johannes Motschmann (GER) - 1:03:36
Jose Santana (MEX) - 1:03:46
TOP RESULTS WOMEN HALF MARATHON
Viola Chepngeno (KEN) - 1:10:40
Bosena Mulatie (ETH) - 1:10:43
Hiwot Gebrekidan (ETH) - 1:11:09
Vibian Chepkirui (KEN) - 1:11:20
Anna Dibaba (ETH) - 1:11:39
Cynthia Limo (KEN) - 1:12:11
Erika Kemp (USA) - 1:12:13
Jessa Hanson (USA) - 1:12:24
Deborah Schoneborn (GER) - 1:12:39
Kinsey Middleton (CAN) - 1:13:20
-->