New York City Marathon 2022 Results

Posted by:
Watch Athletics
Saturday, 05 November 2022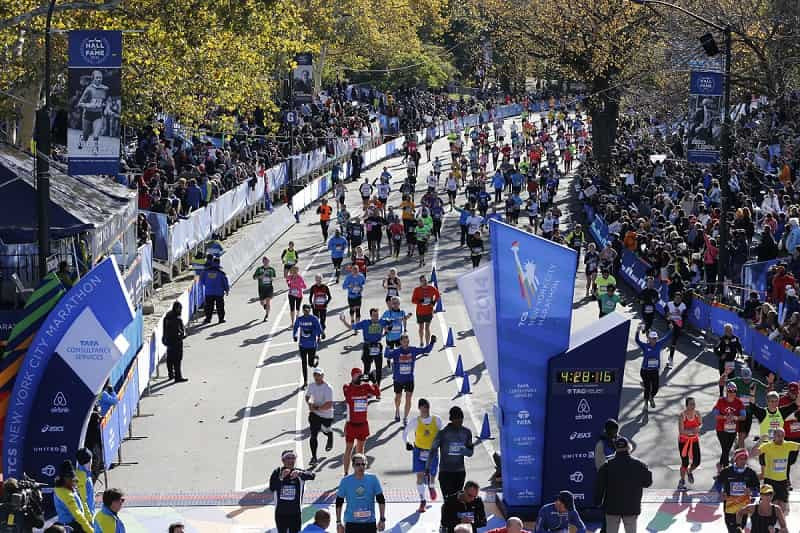 Results, tracking, and leaderboard for the 2022 New York City Marathon, a World Marathon Majors.
Kenyans Sharon Lokedi and Evans Chebet won the 2022 TCS New York City Marathon on Sunday, November 6.
Debutant Lokedi surged away from the lead pack in the race's later stages to take a surprise win in the women's race in 2:23:23. She finished ahead of Chemtai Salpeter of Israel and Ethiopia's Gotytom Gebreslase. Hellen Obiri, a multiple World championships gold medalist on the track, took 6th place on her marathon debut.
Evans Chebet won the men's elite race at the New York City Marathon with a time of 2:08:41. Shura Kitata of Ethiopia took second in 2:08:54. Abdi Nageeye of the Netherlands, last year's Olympic silver medalist, placed third in 2:10:31.
You can also track runners, follow race leaders and search results on the New York City Marathon app.
TOP RESULTS WOMEN MARATHON
1. Sharon Lokedi (KEN) - 2:23:23
2. Lonah Salpeter (ISR) - 2:23:30
3. Gotytom Gebreslase (ETH) - 2:23:39
4. Edna Kiplagat (KEN) - 2:24:16
5. Viola Cheptoo (KEN) - 2:25:34
6. Hellen Obiri (KEN) - 2:25:49
7. Aliphine Tukiamuk (USA) - 2:26:18
8. Emma Bates (USA) - 2:26:53
9. Jessia Stenson (AUS) - 2:27:27
10. Nell Rojas (USA) - 2:28:32
TOP RESLTS MEN MARATHON
1. Evans Chebet (KEN) - 2:08:41
2. Shura Kitata (ETH) - 2:08:54
3. Abdi Nageeye (NED) - 2:10:31
4. Mohamed El Aaraby (MAR) - 2:11:00
5. Suguru Osako (JPN) - 2:11:31
6. Tetsuya Yoroizaka (JPN) - 2:12:12
7. Albert Korir (KEN) - 2:13:27
8. Daniele Meucci (ITA) - 2:13:29
9. Scott Fauble (USA) - 2:13:35
10. Reed Fischer (USA) - 2:15:23
-->