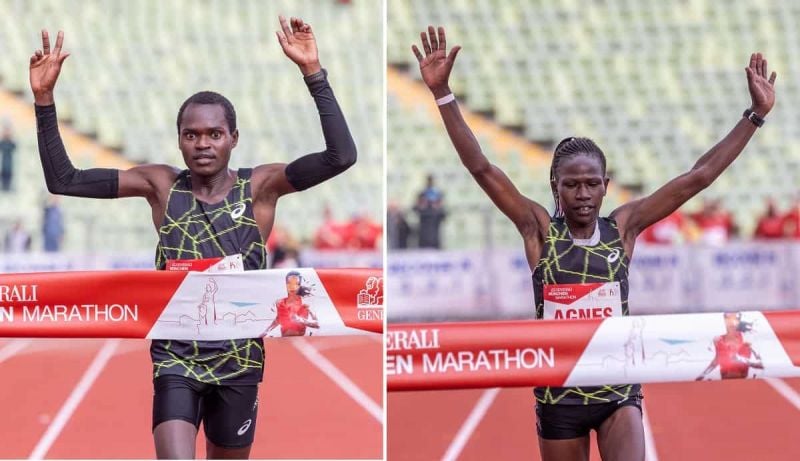 Both course records were smashed during the comeback of international elite runners at the GENERALI MUNICH MARATHON. Kenyan debutant Philimon Kipchumba crossed the finish line in Munich's Olympic Stadium in 2:07:28. Behind the 23 year-old Mengistu Zelalem of Ethiopia and Eritrea's Berhane Tesfaye followed in 2:07:56 and 2:08:10 respectively - times that were well faster than the previous course record of 2:09:46. Fourth placed German Sebastian Hendel ran a fine debut with 2:10:37.
There was a triumph for Kenya in the women's race as well: Agnes Keino clocked a personal best of 2:23:26, improving the course record by almost nine minutes. The 34 year-old was ahead of the 2015 marathon World Champion Mare Dibaba. The Ethiopian ran 2:24:12 while Souad Kambouchia of Morocco finished third with 2:27:35. Seven women were inside the former course record of 2:32:11.
A total of 18,322 athletes entered the 36th edition of the GENERALI MUNICH MARATHON, which is a World Athletics Elite Label Road Race. 4,334 of them were marathon runners. The marathon was started by Frank Shorter, who won the Olympic marathon in Munich in 1972. The American had been invited as a guest of honor by the organisers.
"This was a very special day for the GENERALI MUNICH MARATHON. We are extremely happy with the great course records. We have reached new dimensions today and we intend to build on this success," said Race Director Gernot Weigl. It was the first time in over 20 years that organisers brought back a proper elite field. That was the reason why the long standing course records were smashed by several minutes on Sunday: Kenya's Michael Kite was the former record holder with a time of 2:09:46 from 2000. Germany's Susanne Hahn held the women's mark with 2:32:11 from 2012 when she won the German Championships' race.
In ideal weather conditions with temperatures of 9 Celsius at the start, hardly any wind and a cloudy sky a leading group of ten runners reached the half marathon mark in 63:41. However Tsegaye Mekonnen was no longer among them. The Ethiopian, who still holds the unofficial world junior record of 2:04:32 and was the fastest runner on the start list, had lost contact shortly before and later dropped out. But a compact group remained together in the lead until the late stages of the race. Five of them passed the 35k mark in 1:45:33. Once pacemaker Bonface Kiplimo of Kenya dropped out shortly afterwards a duel between Philimon Kipchumba and Mengistu Zelalem developed. The Kenyan was then able to put in a surge just before the 41st kilometer and dropped Zelalem. "I did not quite expect to run such a fast debut. But my training went very well and I just tried my best," said Philimon Kipchumba, who hopes to achieve times of 2:04 in the future.
In the women's race Agnes Keino and Mare Dibaba were together in the lead, passing the half marathon point in 71:46 and then 30k in 1:42:01. With around eight kilometers to go Keino, who entered the race with a PB of 2:25:08, went ahead. Former world champion Dibaba, who was the fastest on the start list with her PB of 2:19:52, suffered of muscle problems and was not able to respond to the surge of her Kenyan rival. However Mare Dibaba finished second with 2:24:12, running her fastest time since 2019. "It was my big goal to run a personal best and I am really happy that I achieved it. Even more so since I also won the race," said Agnes Keino, who improved to 2:23:26.
Leading results men
1. Philimon Kipchumba KEN 2:07:28
2. Mengistu Zelalem ETH 2:07:56
3. Berhane Tesfaye ERI 2:08:10
4. Sebastian Hendel GER 2:10:37
5. Edwin Kimaiyo KEN 2:11:02
6. Rodgers Keror KEN 2:12:34
7. Meshack Koech KEN 2:14:53
8. Ngonidzashe Ncube ZIM 2:15:39
Leading results women
1. Agnes Keino KEN 2:23:26
2. Mare Dibaba ETH 2:24:12
3. Souad Kambouchia MAR 2:27:35
4. Viola Yator KEN 2:28:11
5. Aberu Zennebe ETH 2:28:33
6. Cavaline Nahimana BUR 2:31:21
7. Helen Jepkurgat KEN 2:32:07
8. Lisa Fuchs GER 2:37:19
More information about the GENERALI MUNICH MARATHON is available at: www.generalimuenchenmarathon.de