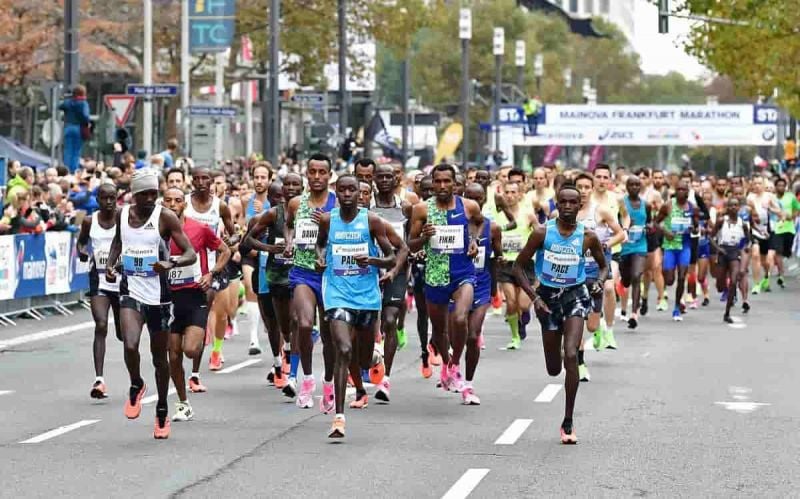 The Mainova Frankfurt Marathon will take place on October 30 for the first time since 2019. Among the men's elite are three contenders with personal bests under 2:06, which indicates a high-quality race in prospect. The Ethiopian Betesfa Getahun is the fastest runner in the field at present with a best of 2:05:28. Also on the start line will be the German runner Filimon Abraham from the theTelis Finanz Regensburg club. The organizers of the race, which will end in its traditional, spectacular fashion in Frankfurt's Festhalle, expect to have around 12,000 marathon runners for the 39th edition of the event. The race is an Elite Label Road Race, a distinction awarded by World Athletics, the world governing body of athletics. Entries are still available at www.frankfurt-marathon.com 
"We are delighted that the Mainova Frankfurt Marathon is back after a two-year interruption because of the Corona Pandemic – with strong elite fields, a large number of mass runners, and all the emotions we have experienced in the past," says the Race Director Jo Schindler. "We'll experience the Mainova Frankfurt Marathon just as it's always been: a big start and thrilling run-in to the finish in the Festhalle in front of thousands of spectators. We aim to create a unique running experience for mass and elite competitors and to see many beaming faces at the end of race day."
The organizers have now announced part of the men's elite field while recruiting for the women's race continues, and the elite women's field will be announced later. An up-and-coming Ethiopian is the fastest man on the start list: Betesfa Getahun is 23. He made his marathon debut in 2019 with an impressive, high-quality performance, running 2:05:28 for fourth place in Amsterdam. The Mainova Frankfurt will be his fourth race at a distance for the runner whose pedigree includes a strong showing in sixth place at the 2018 World Half Marathon Championships in Valencia.
The other runner, who has already gone under 2:06, is also from Ethiopia and is just 21: Gebru Redahgne is a newcomer to running at the international level, running outside of his homeland for the first time only last year when he finished second in the Cape Town Marathon in 2:10:17. He made a massive improvement this year in Barcelona where he ran 2:05:58 for another second-place finish and only five seconds behind the winner. Gebru Redahgne wants to take full advantage of Frankfurt's fast course to further improve his personal best.
A runner from Kenya is making his return to the Mainova Frankfurt Marathon, where he has more than once impressed with the quality of his performances. Martin Kosgey twice finished second in the Festhalle in 2016 and 2018 and took fourth place on two more occasions, in 2017 and 2019. Frankfurt was where the 33-year-old set his personal best of 2:06:41. The Mainova Frankfurt Marathon on October 30 will be his first race in a year when he produced a solid performance to finish runner-up in Eindhoven in 2:06:56.
Since almost every top-level German runner was involved in either the World or European Championships this summer, almost none of them will be competing in Frankfurt. An exception is Filimon Abraham of the Telis Finanz Regensburg club, who has the potential to join the top ranks of Germany's marathoners. After failing to finish on his marathon debut in Hamburg in April, the 29-year-old, who finished 19th in the 10,000m at the European Championships in Munich in August, is renewing his marathon quest on Frankfurt's fast course.
More Information and online entry are available at: www.frankfurt-marathon.com