Results: Birell Prague Grand Prix 2022

Posted by:
Watch Athletics
Sunday, 04 September 2022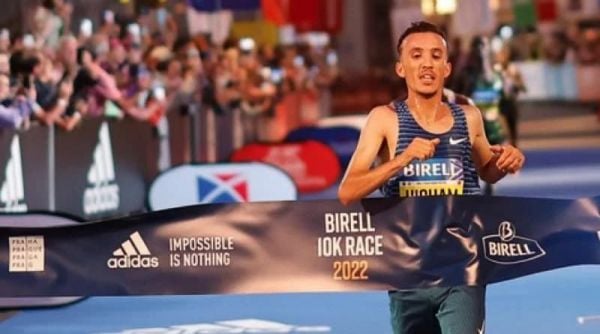 Results for the Birell Prague Grand Prix 2022, a World Athletics Label road race.
Morocco's Hicham Amghar won the Birell 10K Race after he crossed the line in 27:24. He improved his lifetime best by two seconds. The 28-year-old, in a thrilling sprint finish, defeated Ethiopian geat Tadese Worku by one second. Patrick Mosin of Kenya concluded the men's podium with a finishing time of 27:27.
In the women's race, the 2017 cross country world champion, Irene Chepet Cheptai of Kenya, took the victory, setting a new personal best time of 30:16 on the road. Jesca Chelangat took the second in 30:23, while Faith Cherono was third in 30:56.
Men's 10km Road Race

1 Hicham AMGHAR MAR 27:24:00
2 Tadese WORKU ETH 27:25:00
3 Patrick MOSIN KEN 27:27:00
4 Isaac KIPKEMBOI KEN 27:29:00
5 Laban KIPLIMO KEN 27:33:00
6 Alexander Mutiso MUNYAO KEN 27:35:00
7 Isaac Kibet NDIEMA KEN 27:45:00
8 Rhonex KIPRUTO KEN 27:53:00
9 Kennedy KIMUTAI KEN 27:54:00
10 Nibret MELAK ETH 28:03:00
11 Tadese TAKELE ETH 28:21:00
12 Kelvin KIBIWOTT KEN 28:36:00
13 Mogos TUEMAY ETH 28:38:00
14 Josphat MELI KEN 28:52:00
15 Samuel FITWI SIBHATU GER 28:53:00
16 David NGURE KEN 28:59:00
17 Felix KURUI KEN 29:12:00
18 Daniel KINYANJUI KEN 29:17:00
19 Bravin Kipkogei KIPTOO KEN 29:31:00
20 Samuel BARATA POR 29:36:00
21 Lahsene BOUCHIKHI BEL 29:37:00
22 Jacob SIMONSEN DEN 29:43:00
23 Paulos SURAFEL GBR 29:48:00
24 Luuk MAAS NED 29:48:00
25 Patrik VEBR CZE 30:00:00
26 Tim VINCENT AUS 30:23:00
27 Jakub ZEMANÍK CZE 30:27:00
28 Vladimír MARČÍK CZE 30:40:00
29 Vít PAVLIŠTA CZE 30:58:00
30 Lars DEMUTH AUT 31:01:00
Women's 10km Road Race

1 Irine Chepet CHEPTAI KEN 30:16:00
2 Jesca CHELANGAT KEN 30:23:00
3 Faith CHERONO KEN 30:56:00
4 Esther BORURA KEN 31:03:00
5 Enatnesh TIRUSEW ETH 31:36:00
6 Brenda JEPKOECH KEN 31:40:00
7 Vivian MELLY KEN 31:55:00
8 Mekdes WOLDU FRA 32:16:00
9 Sheila JEBIWOTT KEN 32:19:00
10 Alemitu TARIKU ETH 32:39:00
11 Tereza HROCHOVÁ CZE 33:43:00
12 Gabriela VEIGERTOVÁ CZE 34:58:00
13 Markéta GAJDORUSOVÁ CZE 36:27:00
14 Adéla KOLÁČKOVÁ CZE 37:02:00
15 Tereza JAGOSOVA CZE 37:14:00
16 Silvie VALOVÁ CZE 37:16:00
17 Hana HOMOLKOVÁ CZE 37:42:00
18 Lucie PAVLIŠTOVÁ CZE 37:49:00
19 Karoline ROBE GER 38:49:00
20 Yazmin VALLEJO MEX 38:59:00
-->