Mo Farah and Eilish McColgan win Half Marathon in London

Posted by:
Watch Athletics
Sunday, 04 September 2022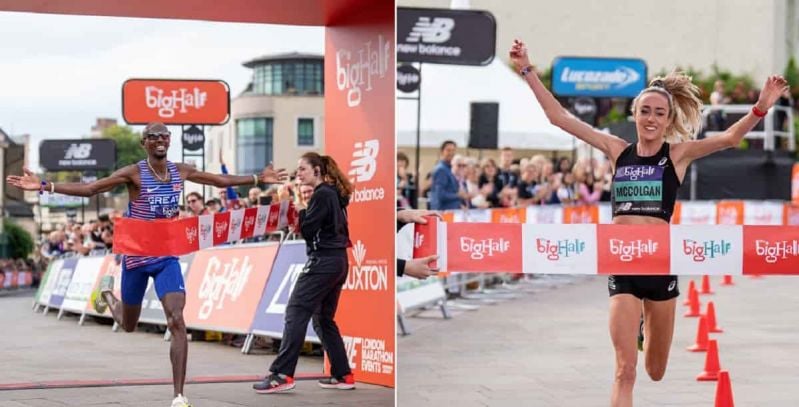 The Big Half 2022: Mo Farah and Eilish McColgan were the winners at the Vitaly Big Half, an annual half marathon race in London, on Sunday (4).
McColgan led the women's race from the gun to the finish, clocking a stunning 1:07:35. She destroyed the previous course record of 1:09:51 by more than two minutes. Last year's winner Charlotte Purdue was second, with Samantha Harrison in third.
McColgan's win in London continued her fantastic 2022 season. In July, she won the Commonwealth Games 10000m title, while in August, McColgan took European 10000m silver and 5000m bronze. She also set a British half-marathon and 10km records in the spring.
"It's been a dream season," McColgan told BBC Sports.
"I'm really happy. It was nice to be back in London, and it was an incredible experience.
"The crowd was amazing. I had people cheering, shouting 'go on Liz' halfway through, so I was trying hard not to smile and laugh."
Four-time Olympic champion Mo Farah Farah celebrated his third win in the London Big Half event, breaking the tape in one hour, one minute, and 49 seconds. Farah broke away from the lead pack after a 17km marker to win the race comfortably. Jack Rowe took second place while defending Big Half champion Jake was third.
"It's nice to be back," said Farah after his Big Half win. "I love this course. It wasn't easy, but the win was the most important.
"The key thing for me was to try to win no matter what happened. It was all practice for the London Marathon.
"I'm excited and looking forward to it. The last several weeks have been good - I've got good consistent training going, so I'm happy where I am."

-->