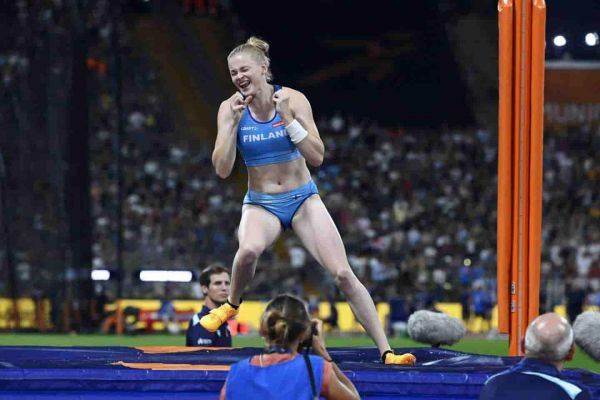 European Athletics Championships Munich 2022 women's pole vault final.
Wilma Murto equaled the European Championships record of 4.85m to win the gold medal for Finland. Ekaterini Stefanidi, the 2016 Rio Olympics champion from Greece, took the silver with a 4.75m. Tina Sutej frm Slovenia also cleared 4.75 but was given third place on a countback result.
Women's pole vault final results - Wednesday, August 17.
| Rank | Name |   | Result |   |
| --- | --- | --- | --- | --- |
| 1 | MURTO Wilma | FIN | 4.85 | =CR |
| 2 | STEFANIDI Aikaterini | GRE | 4.75 | SB |
| 3 | ŠUTEJ Tina | SLO | 4.75 |   |
| 4 | HOLM Caroline Bonde | DEN | 4.55 | NR |
| 4 | MOSER Angelica | SUI | 4.55 |   |
| 6 | BONNIN Marie-julie | FRA | 4.55 | PB |
| 7 | BRUNI Roberta | ITA | 4.55 |   |
| 7 | CAUDERY Molly | GBR | 4.55 |   |
| 9 | COOK Sophie | GBR | 4.40 |   |
| 10 | CHEVRIER Margot | FRA | 4.40 |   |
| 11 | LAMPELA Elina | FIN | 4.40 |   |
| 12 | RETZIUS Lene Onsrud | NOR | 4.25 |   |