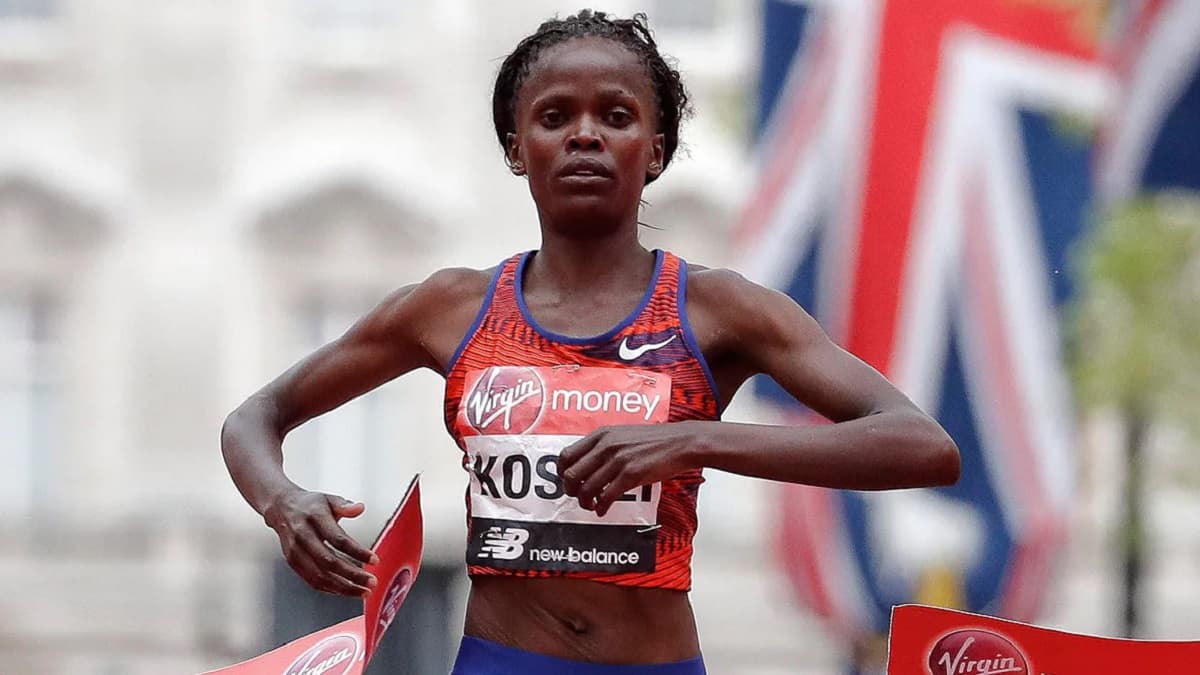 The elite women's field for the 2022 TCS London Marathon was released on Monday, and again, it's incredible.
World marathon record holder Brigid Kosgei and defending London Marathon champion Joycelline Jepkosgei lead a fantastic field with nine runners with sub-2:20 PB's. Eight have run the marathon faster than 2 hours and 19 minutes. In comparison, the 2020 Olympics had four runners with lifetime best marks faster than 2:19.
Jepkosgei is the defending champion of the World Marathon Majors (WMM) event. She won last year's edition with a stunning 2:17:43.
Brigid Kosgei finished only fourth in the same race and will be eager to finish on top to win herself a second WMM title this year after winning the Tokyo Marathon in March.
"We have got a mouthwatering battle between Joycelline and Kosgei. Kosgei showed she is back to her best with her win in Tokyo this year. However, Joycelline was also in brilliant form when she competed here last year," event director Hugh Brasher.
Kenyans will face powerful opposition from Ethiopian rivals. On top of a World-class Ethiopian delegation is Yalemzerf Yehualaw, the world 10k record holder, who debuted in the marathon with a sensational 2:17:23 on her way to victory in Hamburg. She is the fastest women's marathon debutant in history.
Degitu Azimeraw, who finished second to Jepkosgei at last year's race and was 8th in Boston this year with 2:25:23, has a potential finish on top. Ashete Bekere is another Ethiopian that can win the race. Last year she took 3rd in London at 2:18:18 and was 2nd in Tokyo at 2:17:58.
The 2022 TCS London Marathon takes place on Sunday, October 2.
2022 TCS London Marathon complete elite women's field
Brigid KOSGEI (KEN): Marathon Personal best – 2:14:04 (WR)

Yalemzerf YEHUALAW (ETH): 2:17:23

Joyciline JEPKOSGEI (KEN): 2:17:43

Degitu AZIMERAW (ETH): 2:17:58

Ashete BEKERE (ETH): 2:17:58

Joan Chelimo MELLY (ROU): 2:18:04

Sutume Asefa KEBEDE (ETH): 2:18:12

Alemu MEGERTU (ETH): 2:18:51

Hiwot GEBREKIDAN (ETH): 2:19:10

Anabel YESHANEH (ETH): 2:20:51

Mary NGUGI (KEN): 2:21:32

Charlotte PURDUE (GBR): 2:23:26

Reia IWADE (JPN): 2:23:52

Stephanie TWELL (GBR): 2:26:40

Rose HARVEY (GBR): 2:27:20

Marci KLIMEK (USA): 2:30:48

Samantha HARRISON (GBR): 2:32:22

Anna BRACEGIRDLE (GBR): 2:34:20

Emma STYLES (GBR): 2:37:36

Girmawit GEBRZIHAIR (ETH): Debut

Eilish McCOLGAN (GBR): Debut
-->