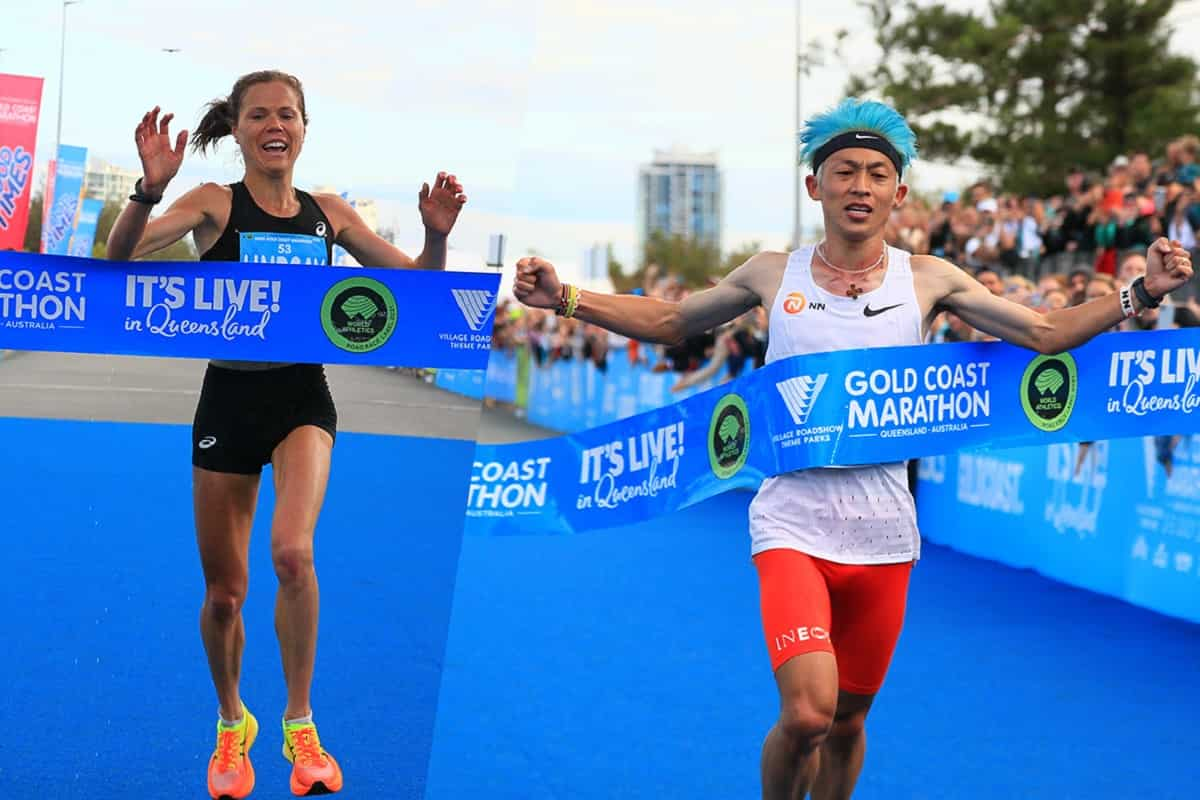 Japan's Jo Fukuda and USA's Lindsay Flanagan were the winners of the 2022 Gold Coast Marathon, a World Athletics Label Road Race, in Queensland, Australia on Sunday, July 3.
Under almost perfect weather conditions, Flanagan shaved six seconds off the women's Gold Coast course record by Kenya's Ruth Chebitok in 2018 with her winning and the new personal best time of 2:24:43. She finished the race more than one minute ahead of pre-race favorite Australian Lisa Weightman (2:25:55) and Japan's Shiho Kaneshige (2:29:12).
"The plan was to make a move at the halfway mark, and at the 10km I thought all the women were with me, but it was just the men.
"I really just wanted to stay with the pace runner and no one else was around us really, so I guess it [the breakaway] happened then," Flanagan said.
"Lisa is an incredible athlete and so experienced, so I knew she had to be somewhere close, and I knew that I had to keep pushing because she's the sort of runner who can come up on you at any moment. I always had her in the back of my mind, so I can credit her with pushing me to run the race I did today," she added.
Jo Fukuda broke away from the lead pack right after the 30km marker in the men's race and never looked back. The 31-year-old Japanese broke the tape at 2:10:55 miles ahead of his compatriot Akihiro Kaneko (2:14:25) and third-place finisher Amaury Paquet from Belgium. Akihiro Kaneko [2:14:25] with Paquet [2:15:45] a further 1:20 behind in third.
"This is my first win here, although my race time was slower than I was expecting," said, who took 3rd place here in 2018. "The same as 2018 when I ran here, all the spectators were so cheerful.
Top Men
1. Jo FUKUDA - JPN - 2:10:48
2. Akihiro KANEKO - JPN - 2:14:18
3. Amaury PAQUET - BEL - 2:15:45
4. Louis MCAFEE - AUS - 2:17:43
5. Samuel WOLDEAMANUEL GEBREMICHAEL - ETH - 2:18:00
6. Jacob COCKS - AUS - 2:19:03
7. Aidan HOBBS - AUS - 2:20:08
8. Patrick STOW - AUS - 2:20:20
9. Nick EARL - GBR - 2:20:28
Top Women
1. Lindsay FLANAGAN - USA - 2:24:35
2. Lisa WEIGHTMAN - AUS - 2:25:55
3. Shiho KANESHIGE - JPN - 2:29:04
4. Stephanie BRUCE - USA - 2:32:22
5. Haruka YAMAGUCHI - JPN - 2:34:49
6. Nera JAREB - AUS - 2:34:50
7. Anna KELLY - AUS - 2:36:35
8. Rachel MCGUINNESS - GBR - 2:36:55
9. Beth MCKENZIE - AUS - 2:38:19
10. Tennile ELLIS - AUS - 2:39:08
-->