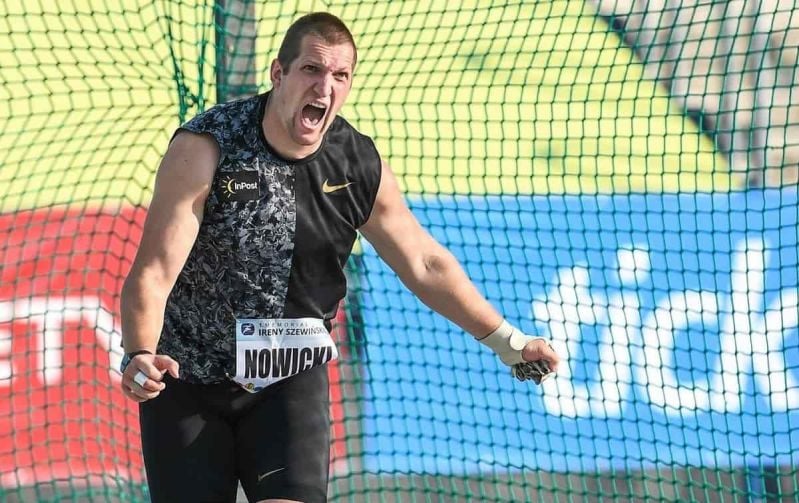 Olympic champion Wojciech Nowicki from Poland won an exciting men's hammer throw setting the world seasonal lead of 81.58m in front of his home fans in the Slaski Stadium at the Memorial Janusz Kusocinski in Chorzow, a World Athletics Continental Tour Gold meeting.
World bronze medallist Quentin Bigot, who finished fifth at last year's Olympic Games in Tokyo, took the lead with his PB of 80.55m in the fourth round, but Nowicki responded with his winning mark of 81.58in the sixth round. The Polish thrower produced two more throws of 80.16m and 80.38m.
Four-time world champion Pawel Fajdek finished third with 79.62m.
Women's hammer throw:
Anita Wlodarczyk took her third win in this year's Continental Tour Gold. The three-time Olympic champion took the lead with 75.76m in the third round. Olympic bronze medallist Malwina Kopron took second place with a seasonal best of 75.08m. Twenty-one year-old Ewa Rozanska completed the Polish top-three sweep by finishing third with a lifetime best of 71.31m, the first throw of her career best beyond the 70 metres barrier.
Women's 100 metres hurdles:
Olympic champion Jasmine Camacho Quinn won the women's 100m hurdles in 12.43 into a headwind of -1.4 m/s beating Poland's Pia Skrzyszowska (12.73) and Olympic bronze medallist Megan Tapper (12.90).
Men's shot put:
Two-time Olympic bronze medallist Tom Walsh improved the meeting record and his seasonal best to 22.31m in the third round to win a high-quality men's shot put competition. Reigning world champion and olympic silver medallist Joe Kovacs produced a consistent series featuring five throws over the 21 metres (21.28m, 21.92m, 22.00m, 21.04m and 21.52m). Former European Under 23 champion Konrad Bukowiecki from Poland set his seasonal best of 21.66m in the third round to take third place ahead of Filip Mihljevic, who also threw over the 21 metres barrier with 21.11m.
The other three meeting records were set in the men's pole vault, in the women's 100 metres and in the women's long jump.
Men's pole vault:
Olympic silver medallist Chris Nilsen won his second consecutive competition this week on Polish soil repeating his victory from Bydgoszcz. Nilsen cleared 5.92m in the second attempt and made three attempts at the North American record of 6.07m. Former Olympic champion Renaud Lavillenie took second place with a seasonal best of 5.81m beating Pal Lillefosse from Norway on countback. The Norwegian improved his lifetime best. Valentin Lavillenie took fourth place with 5.71m beating Piotr Lisek on countback.
Women's 100 metres:
Former European Indoor champion Ewa Swoboda won the women's 100 metres in 11.08 into a headwind of -0.4 m/s missing her PB by 0.01 on her seasonal debut. US Shannon Ray set her PB of 11.19 to finish second ahead of Poland's Anna Kielbasinska, who set her lifetime best of 11.22.
Women's long jump:
Agate De Sousa from Sao Tome and Principe leapt to a national record of 6.81m in the women's long jump and kept the lead until the final round, when 2017 European Under 20 champion Milica Gardasevic also jumped 6.81m. Gardasevic's second next jump of 6.64 was seven centimetres better than De Sousa's second best lead. Gardasevic took the win on countback with a new meeting record.
Women's 400 metres:
Olympic 4x400 relay silver medallist Natalia Kaczmarek overtook US sprint legend Allyson Felix to win the women's 400 metres in 50.40. Felix finished second setting a seasonal best of 50.71. Reigning 400m European champion Justyna Ersetic Swiety claimed third place with a seasonal best of 50.74.
Men's 400 metres:
Alexander Ogando from Dominican Republic came through in the home straight to win the men's 400 metres in a personal best of 44.68. South Africa's Zakhiti Nene finished second setting his lifetime of 44.92. Lidio Andres Feliz from Republic Dominican took third place with 45.27 ahead of Karol Zalewski from Poland (45.38).
Women's 800 metres:
Diribe Welteji from Ethiopia took a close win in the women's 800 metres in a PB of 1:58.28. Olympic fourth placer Jemma Reekie finished runner-up in a seasonal best of 1:58.44. Poland's European 1500m silver medallist Sofia Ennaoui also dipped under the 1:59 barrier to set her PB with 1:58.96.
Men's 800 metres:
Olympic bronze medallist and European Indoor champion Patryk Dobek took the win in a good-quality men's 800 metres in a seasonal best of 1:44.49 edging past Benjamin Robert from France, who equalled his PB clocking 1:44.53. Spain's 2019 European Indoor champion Alvaro De Arriba improved his PB to 1:44.85.
Men's 110 metres hurdles:
South American champion Rafael Pereira won the men's 110 metres hurdles in 13.28 holding off Polish indoor record holder Damian Czykier (13.35) and US Aaron Mallett (13.48).
Men's 100 metres:
Arthur Cissé from Ivory Coast cruised to a comfortable win in the men's 100 metres in 10.24 ahead of Abdullah Mohammed from Saudi Arabia (10.32) and US sprint veteran Mike Rodgers (10.37).
One mile walking race:
Christopher Linke won the rarely contested men's one mile walking race in 5:40.04 beating Olympic 50 km race walk champion Dawid Tomala from Poland by 1.79 seconds.
-->