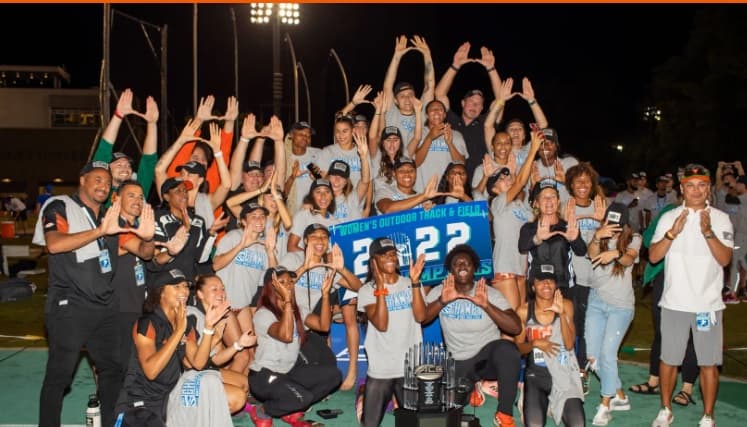 On Saturday (14), the Florida State (FSU) men and Miami women were crowned 2022 Atlantic Coast Conference (ACC) Outdoor Track and Field team champions at Morris Williams Stadium at Duke University.
Before the final day of the contest, the FSU men carried a four-point lead. They cemented the top position on the team standings to secure the title on Saturday after several team members won gold medals and others scored important points with top-five finishes.
FSU Seminoles' won the men's team title for the second straight year. They scored 149 points, ahead of Virginia Tech – by 56-points. Virginia was third with 80pts.
Heading into the final day of the SEC Championships, Miami's women were in the middle of the team standings; however, several top 5 finishes across the board – underlined by individual championships from Debbie Ajagbe in the discus throw and Moriah Oliveira in the 400 meters – moved the Miami Hurricanes to the top by the end of the meeting.
Miami topped the women's standings with 108 team points, followed by host Duke with 101.5. Florida State scored 99 points to secure third, with North Carolina State in fourth with 91.
Men Team Scores
1. Florida State – 149
2. Virginia Tech – 93
3. Virginia – 80
4. North Carolina – 78
5. Miami – 61
6. Clemson– 59
6. Duke – 59
8. Notre Dame – 55
9. Louisville – 53
10. Wake Forest – 42
11. NC State – 40
12. Pitt – 30
13. Syracuse – 10
14. Boston College – 4
15. Georgia Tech – 1
Women Team Scores
1. Miami - 108
2. Duke – 100.5
3. Florida State – 99
4. NC State – 91
5. Clemson – 67
6. Louisville – 64
7. Virginia – 54.25
8. Virginia Tech – 54
9. North Carolina – 53.25
10. Notre Dame – 50
11. Georgia Tech – 31
12. Wake Forest – 17
13. Pitt – 11
14. Boston College – 10
15. Syracuse – 9
SEC Outdoor Championships Results
-->