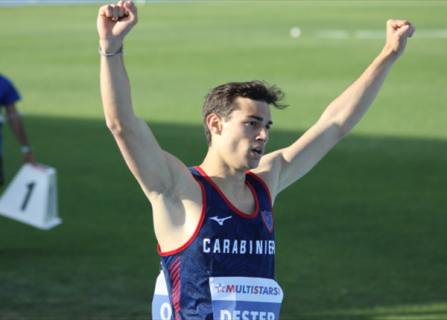 Sonder Ase Skotheim from Norway leads after the first day of the men's decathlon at the Carlo Zecchini Stadium in Grosseto on a sunny and warm day in Grosseto.
 Skotheim scored 4370 points after five events leadingover Italian Indoor record holder Dario Dester by 92 points. Markus Rooth from Norway is ranked third with 4207 points.
 Skotheim produced an outstanding first day improvinghis PBs in all five events. He performed brilliantly in the jumping events improving his PBs by six cm to 2.16 in the high jump and in the long jump with  a legal 7.74m and a wind-assisted 7.77m. The 20-year-old Norwegianathlete also clocked 11.17 in the 100m and 48.76 in the 400m and produced his shot put PB with 13.84m.
 Dester started his competition on a high note by improving his PB by 0.18 to 10.76 in the 100m. The Italian decathlete then equalled his PB in the long jumpwith 7.61m, improved his shot put PB to 13.90m, cleared 1.95m in the high jump and won his heat in the 400m in 47.76 setting the second fastest overall time to Frenchman Arthur Prevost, who clocked 47.60 in another heat. Dester scored 4278 points and is on schedule to break his Italian Under 23 record of 7936 points.
 Markus Rooth is ranked third with 4207 points. His first day was highlighed by a wind-assisted 7.70 in the long jump and two PBs in the 100m with 10.90 and in the shot put with 14.25m.
 Annik Kalin from Switzerland leads overnight in the women's pentathlon with 3715 points. The 22-year-old Swiss athlete won the women's 100m hurdles in 13.43 into a headwind of -1.1 m/s, cleared 1.77m in the high jump, improved her PB by 62 cm to 13.81m in the shotput and missed her 200m PB by 0.04 with 24.50.
 Paulina Ligarska from Poland won the high jumpimproving her PB to 1.83m and the shot put with 14.00m. cleared 1.77m in the high jump and clocked24.50 in the 200 metres.
 Italian indoor record holder Sveva Gerevini ended the first day in third place with 3520 points. Gereviniimproved her PB by 0.17 to 13.60 in the 100m hurdlesand won the 200m in 23.93 missing her PB by 0.07.