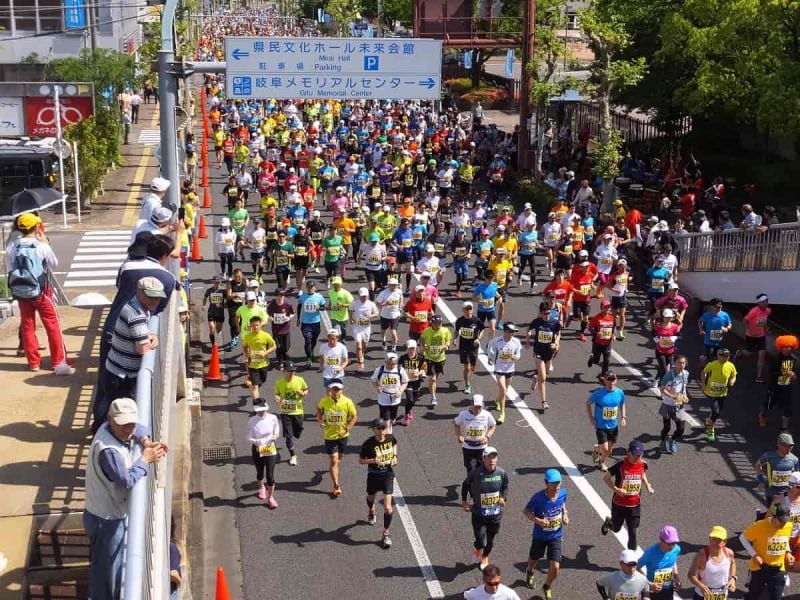 Results Gifu Half Marathon 2022, a World Athletics Elite LabelRoad Race, Sunday, April 24.
Kenyan runners scored a double victory at the Gifu Half Marathon on Sunday as Alexander Mutiso won the men's race and Dolphin Nyaboke Omare took the women's race. Mutiso broke the tape at 59:56, holding off in a sprint finish his compatriots Benard Kibet Koech (59:57) and Emmanuel Maru (59:58).
Omare meanwhile was a clear winner in the women's race finishing after 1:08:13. Australia's Sinead Diver was in a distant second in 1:09:00 as Haruka Yamaguchi concluded the podium with a time of 1:09:50.
Top Results Men
1. MUTISO, Alexander (KEN) 59:56
2. KOECH, Benard Kibet ( KEN) 59:57
3. MARU, Emmanuel (KEN) 59:58
4. KARANJA, Joseph (KEN) 1:00:12
5. KAMAU, Charles karanja (KEN) 1:00:22
6. KISAISA, Ledama(KEN) 1:00:58
7. VINCENT, Raimoi(KEN) 1:01:22
8. MITEI, Donald (KEN) 1:01:48
9. SIMON, Saidimu (KEN) 1:01:51
10. NAKAMURA, Takahiro (JPN) 1:02:21
Top Results Women
1. OMARE, Dolphin Nyaboke (KEN) 1:08:13
2. DIVER, Sinead (AUS) 1:09:00
3. YAMAGUCHI, Haruka (JPN) 1:09:50
4. WELLINGS, Eloise (AUS) 1:10:42
5. IWADE, Reia (JPN) 1:10:43
6. RULE, Natalie (AU) 1:11:24
7. SHIMOKADO, Miharu (JPN) 1:12:19
8. AOKI, Nanami (JPN) 1:12:33
9. MATSUDA, Anna (JPN) 1:12:59
10. ADACHI, Yuma (JPN) 1:13:57
-->