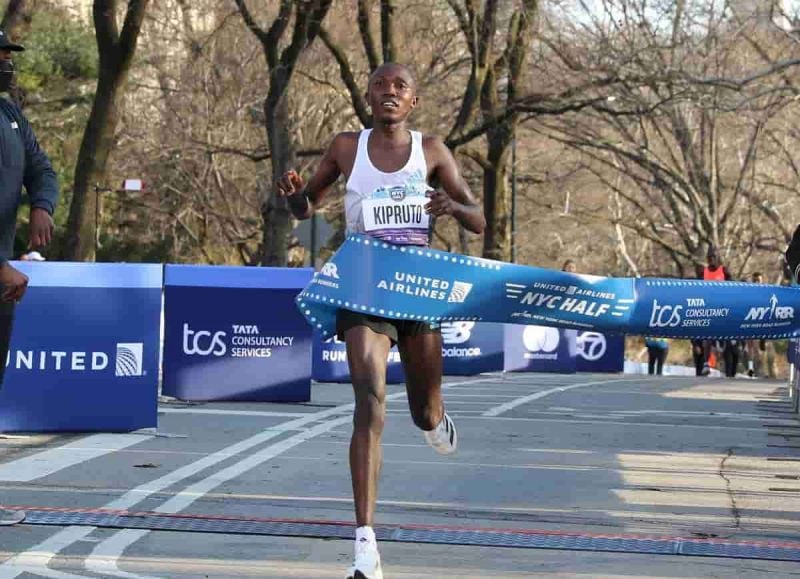 Results for the 2022 United Airlines New York City Half Marathon, an international elite and mass public road race, on Sunday, March 20.
Kenya's Rhonex Kipruto, a World record holder in the 10km, and Ethiopia's Senbere Teferi emerged as the winners of the 2022 NYC Half Marathon on Sunday.
The 22-year-old Kipruto broke the tape at 1:00:30 just 7 second seconds ahead of his compatriot Edward Cheserek.
In the women's race Senbere Teferi, the 2015 World Cross Country champion held off Irine Cheptai of Kenya by 2 seconds for the win despite losing some time after the lead vehicle led her to the wrong way in the final half kilpmeter.
Top Results Men
1. Rhonex Kipruto (Kenya) - 1:00:30
2. Edward Cheserek (Kenya) - 1:00:37
3. Teshome Mekonen (Ethiopia) - 1:00:40
4. Shadrack Kipchirchir (U.S.A.) - 1:01:16
5. Conner Mantz (U.S.A.) - 1:01:40
6. Sam Chelanga (U.S.A.) - 1:01:49
7. Reed Fischer (U.S.A.) - 1:02:06
8. Abbabiya Simbassa (U.S.A.) - 1:02:09
9. Ben True (U.S.A.) - 1:02:10
10. Rory Linkletter (Canada) - 1:02:19
Top Results Women
1. Senbere Teferi (Ethiopia) - 1:07:35
2. Irine Cheptai (Kenya) - 1:07:37
3. Karoline Bjerkeli Grovdal (Norway) - 1:08:07
4. Sharon Lokedi (Kenya) - 1:08:14
5. Lindsay Flanagan (U.S.A.) - 1:09:50
6. Charlotte Purdue (Great Britain) - 1:09:57
7. Natasha Wodak (Canada) - 1:10:01
8. Annie Frisbie (U.S.A.) - 1:10:14
9. Edna Kiplagat (Kenya) - 1:10:22
10. Stephanie Bruce (U.S.A.) - 1:10:26
-->