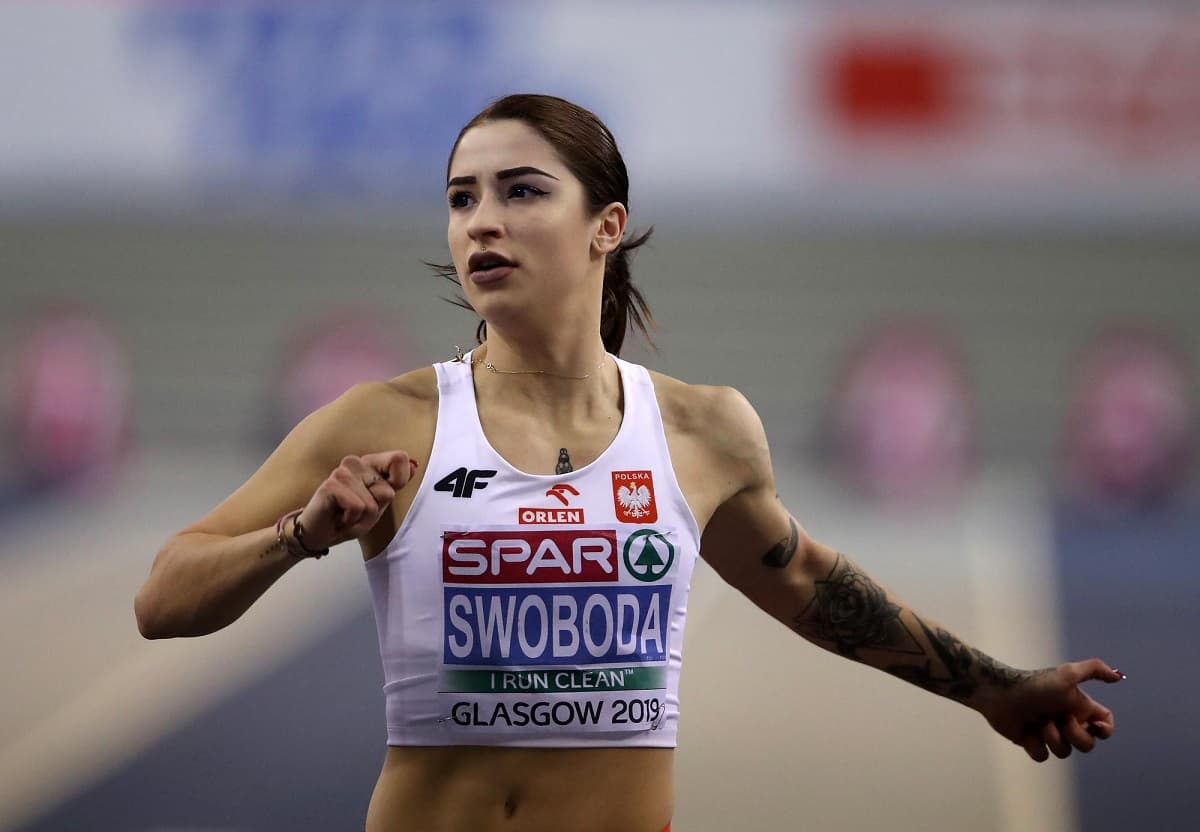 Sprinter Ewa Swoboda smashed her Polish record in the 60m race twice on Friday at the Orlen Cup Lodz, a World Athletics Indoor Tour silver level meeting.
The 24-year-old broke the Polish record in the heats with 7.04 seconds. Less than an hour later, in the 60m final, Swoboda destroyed her mark with an astonishing 7.00 seconds.
The previous Polish 60m record also belonged to Swoboda, who in 2016 posted 7.07 seconds in Torun.
Swoboda returned to racing at the Atlas Arena in Łódź after an eight-month break because of an injury.
Swoboda's winning time of 7.00 seconds is the fastest in the World this year and moves her to the #10 position in history.
Another outstanding performance in the men's 60m dash produced the Olympic 100m and 4x100m champion Marcell Jacobs of Italy, who cruised to a 60m dash win with 6.49 seconds. 
In the preliminary round, Jacobs comfortably clocked 6.51 seconds.
The 26-year-old Jacobs opened his 2022 campaign last weekend at the ISTA Indoor Berlin, where he took a convincing 60m vicotry with 6.51 seconds.
60m Women Final
| Pos | Athlete | Club/Country | Mark |   |
| --- | --- | --- | --- | --- |
| 1 | SWOBODA Ewa | POLAND | 7.00 | PB NR WL |
| 2 | DOSSO Zaynab | ITALY | 7.19 | PB |
| 3 | PAYTON Claudia | SWEDEN | 7.24 | PB |
| 4 | POPOWICZ-DRAPAŁA Marika | POLAND | 7.28 | SB |
| 5 | BERTON Aurora | ITALY | 7.29 | PB |
| 6 | GĄSIOR Adriana | POLAND | 7.34 | PB |
| 7 | PALUCH Paulina | POLAND | 7.35 |   |
| 8 | STEFANOWICZ Magdalena | POLAND | 7.40 |   |
60m Men Final
| | | | | | | |
| --- | --- | --- | --- | --- | --- | --- |
| Pos | Athlete | Club/Country | Mark |   | RT |   |
| 1 | JACOBS Lamont Marceli | ITALY | 6.49 |   | 0.121 | SB |
| 2 | RODGERS Mike | USA | 6.62 |   | 0.117 | SB |
| 3 | CHITURU Ali | ITALY | 6.63 |   | 0.146 |   |
| 4 | SŁOWIKOWSKI Przemysław | POLAND | 6.66 |   | 0.111 |   |
| 5 | KOPEĆ Dominik | POLAND | 6.69 |   | 0.117 |   |
| 6 | VELEBA Jan | CZECH REPUBLIC | 6.70 |   | 0.154 |   |
| 7 | KRUPA Patryk | POLAND | 6.73 |   | 0.133 |   |
|   | AMO-DADZIE Eugene | GREAT BRITAIN | DNS |   |   |   |