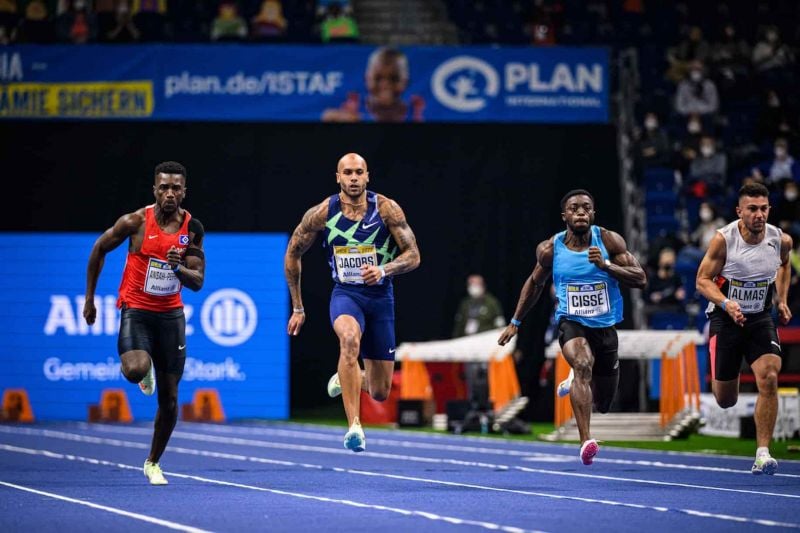 Olympic Champions Marcell Jacobs and Armand Duplantis shone at the ISTAF INDOOR in Berlin on Friday evening. The Italian 100 m gold medallist took his first race after Tokyo with a fine 60 m time of 6.51 which is a European lead. Armand Duplantis just missed a Pole Vault record of 6.19 m. The Swede broke the meeting record and improved his world lead with 6.03 m in the Mercedes-Benz-Arena. There was a European season's best in the women's 60 m as well: Britain's Daryll Neita improved to 7.15 seconds. In the first round of the 60 m hurdles Brazil's Rafael Pereira clocked a Southern American area record of 7.58 seconds.
Due to Covid 19 restrictions there were only 1,500 spectators allowed while usually there is a capacity crowd of 12,500. The ISTAF INDOOR Berlin is a World Athletics Indoor Tour Silver Meeting. On 20th February organisers will stage the ISTAF INDOOR Düsseldorf for the second time.
Men's Events: Jacobs runs second fastest time of his career
Leading from the start there was no way catching Marcell Jacobs in the 60 m dash. The Italian Olympic 100 m Champion competed for the first time since his heroics in Tokyo last summer. He stormed to victory with 6.51 seconds and was well ahead of Arthur Cissé of the Ivory Coast who clocked 6.60. France's Jimmy Vicaut took third in 6.61.
"Last year I started my season here and it was the beginning of an unforgettable year. So it was a good to start in Berlin again. I had a very long time with no competitions after Tokyo but I really needed to recover mentally and physically," said the Olympic Champion, who ran the second fastest 60 m time of his career. Jacobs clocked 6.47 when he became European Indoor Champion in 2021. In Berlin he had already been drawn with Arthur Cissé in the first round. So his very first race after Tokyo was not a walk in the park. Slightly trailing the sprinter from the Ivory Coast the Italian came through in the final third and took the heat with 6.57 from Cissé (6.60). "The start was not perfect, it was much better in the final", said Jacobs. "The indoor season will be very intense and will peak with the World Indoor Championships."
It was a bit of a bumpy road for Armand Duplantis to get into the position to attack his own world record of 6.18 m. While KC Lightfoot of the USA sailed over 5.92 at his first attempt the Swede needed three to finally get over. After another failed attempt at 6.03 he then produced a Duplantis like effort and cleared this height well, improving his own world lead and the meeting record by one centimeter. It was back in 2015 when France's Renaud Lavillenie jumped 6.02 at the ISTAF INDOOR. Armand Duplantis then went for 6.19 and his second and third world record attempts were both really good and close. "These attempts felt good and I realized that it is possible," said Armand Duplantis. "I am now at a point of my career where I make small improvements. One week I change my run-up, in the next week I am jumping a bit more aggressive. That way I can improve step by step. I know what to do and that I am in a position to jump higher."
KC Lightwood was second with 5.92 and Germany's Oleg Zernikel surprised with a personal best of 5.81 to take third place.
Britain's David King produced a very slight false start in the 60 m hurdles final and was disqualified. The five men race was then taken by France's Aurel Manga in 7.62 from Koen Smet of the Netherlands and Brazil's Rafael Pereira, who were both timed with 7.68. In a very close race Germany's Gregor Traber took fourth with 7.69. "I ran a season's best and maybe have three more races indoors to further improve," said Aurel Manga.
But the hurdling performance of the day came in the first round: Rafael Pereira clocked a Southern American area record of 7.58 seconds, improving his PB by 0.18. The 24 year-old broke an 18 year-old mark in Berlin: Fellow-Brazilian Marcio de Souza ran 7.60 back in 2004 in Karlsruhe. After his record race it was probably difficult for Pereira to refocus for the final, where he could not produce a fluid race.
Women's Events: Daryll Neita with personal best and European lead
Returning to the Long Jump for the first time this indoor season Olympic Champion Malaika Mihambo had problems with her run-up. Three times in a row the German superstar had won the ISTAF INDOOR in Berlin. This time after three rounds she had overstepped three times and no valid jump. A day after her 28th birthday Malaika Mihambo then passed in the fourth round and concentrated fully on her final two attempts.
So often she had turned fortunes around in her final jumps in the past, most noticeably with her final attempt at the Olympic Games. And Malaika Mihambo almost did it again in Berlin. After another disjointed run-up for her fifth jump, where she produced 6.19 she finally did hit the board almost perfect. But with 6.66 m it was not quite enough to snatch victory and she finally had to settle for third.
Sweden's Khaddi Sagnia took the competition with a fifth round jump of 6.68 m. Until that round Germany's Merle Homeier had been the surprise leader with 6.59 m. She then jumped a personal best in her final attempt with 6.66, which was enough to take second from the Olympic Champion.
Malaika Mihambo also competed in the 60 m on Friday evening. In the first round she was fourth with 7.48 which was not enough to go through to the final. But she would probably not have been able to participate in the final because of the Long Jump competition being held parallel. "6.66 are okay as it was my first Long Jump this season. It was all about settling in. I had to change my sprint technique to the Long Jump run-up which did not work so well," said Malaika Mihambo.
As expected Daryll Neita dominated the 60 m. The sprinter from Great Britain, who was eight in the Olympic 100 m final in Tokyo last year and then improved to 10.93 seconds in Zurich, ran her first indoor competition of the season and could hardly have made a better start. Storming away from her challengers in the first round she qualified for the final with a personal best of 7.18. Her previous PB from last year was 7.21.
The 25 year-old then further improved in the final, winning with a big margin in 7.15 which is a European season's best. Italy's Zaynab Dosso and Germany's Sophia Junk took second and third places, both clocking personal bests as well with 7.28 and 7.29 respectively.
Finland's Reetta Hurske took the 60 m hurdles with a strong finish in 7.99 seconds from Zoe Sedney (Netherlands/8.05) and fellow-Finn Nooralotta Neziri (8.08). "It was not a perfect race but a good one. I need to get faster between the hurdles, that is the main issue. I plan with a full indoor season and my goal is to run well at the World Indoors," said Reetta Hurske, who missed her personal best by just 0.03 seconds.
More information is available at: www.istaf-indoor.de
-->