Addisu and Seyaum triumph at Campaccio in San Giorgio su Legnano

Posted by:
Watch Athletics
Thursday, 06 January 2022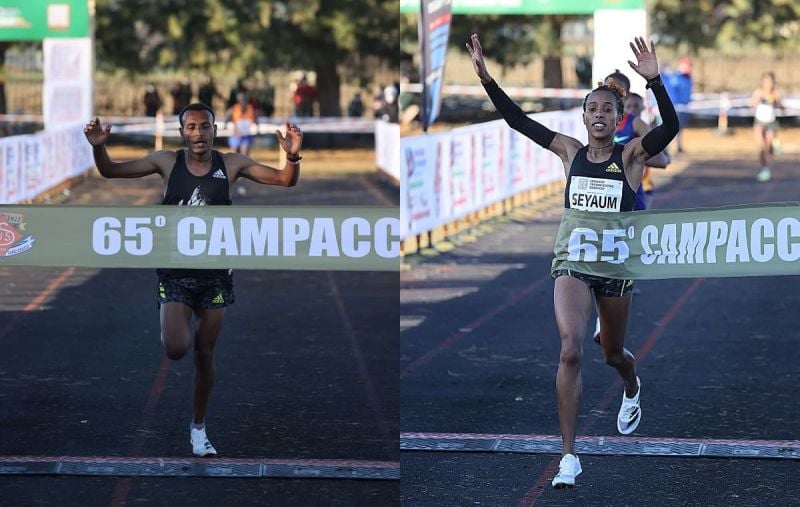 Ethiopia triumphed at the 65th edition of the Campaccio race in San Giorgio su Legnano, the eighth leg of the World Athletics Gold Level Cross Country race.
Yihune Addisu and Dawit Seyaum claimed the win joining the prestigious roll of honour of past Campaccio winners, that features Haile Gebrselassie, Kenenisa Bekele, Imane Merga and Muktar Edris.
Addisu broke away from a five-men leading pack at the bell and increased his lead over Emmanuel Kiplagat Korir during the final lap and crossed the finish-line in 28:39 to win the first World Athletics Cross Country Tour Gold race of his career. Korir finished second six seconds behind Addisu in 28:45.
Addisu came to the fore last June when he improved his PB to 12:58.99 in the 5000m in Hengelo. He went on to finish fourth in the 5000m at the World Under 20 Championships in Nairobi.
Yihune Addisu: "I was confident that I could win the race, as I prepared very well in training. I know that Campaccio is a very prestigious race. I train with Selemon Barega. He is my role model".
Amos Serem, who won the gold medal in the 3000m steeplechase on home soil at the World Under 20 Championships in Nairobi, took a close third place in 28:53 holding off Vincent Too in a thrilling sprint in the final straight. Aron Kifle from Eritrea finished fifth in 28:59. Eyob Faniel went to the lead at 3 km and dropped back with 2 km to go before taking sixth place in 29:15 in his first race since his third place at the New York Marathon. Faniel finished six seconds ahead of 3000m steeplechase European bronze medallist Yohannes Chiappinelli.
Women's race:
Twenty-five Ethiopian 1500m middle distance runner Dawit Seyaum won her second consecutive win on Italian soil six days after claiming the victory at the 5 km Boclassic road race on New Year's Eve.
Seyaum, Rahel Daniel Ghebreyohannes and world under 20 cross country champion Beatrice Chebet broke away from the rest of the field with 500 metres to go. Seyaum launched her final sprint with 300 metres to go to take the win in 18:48 edging Ghebreyohannes by just one second in a close race. Chebet took third place in 18:51 to finish in top three at this season's World Cross Country Tour after finishing second to Ghebreyohannes in Atapuerca and third in Seville.
Ethiopia's Fantaye Belayneh finished fourth in 18:56 ahead of her compatriot Eisa Medina (19:05). Reigning 5000m European under 23 champion Nadia Battocletti from Italy was the top Italian runner in sixth place in 19:06 sharing the same time as Klara Lukan from Slovenia. Battocletti won the European Under 23 Cross Country Championships in Fingal Dublin beating Lukan.
Top results international women 6km
1. SEYAUM DAWIT - ETH - 18:48
2. GHEBREYOHANNES RAHEL DANIEL - ERI - 18:49
3. CHEBET BEATRICE - KEN - 18:51
4. BELAYNEH FANTAYE - ETH -18:56
5. MEDINA EISA - ETH - 19:05
6. BATTOCLETTI NADIA - ITA - 19:06
7. LUKAN KLARA - SLO - 19:06
8. MULI LUCY MAWIA - KEN - 19:15
9. ARNAUDO ANNA - ITA - 19:41
10. CHERONO EVA - KEN -19:58
Top results international men 10km
1. ADDISU YIHUNE - ETH - 28:39
2. KIPLAGAT EMMANUEL KORIR - KEN - 28:45
3. SEREM AMOS - KEN - 28:53
4. TOO VINCENT KIPKURUI - KEN - 28:53
5. KIFLE ARON - ERI - 28:59
6. GHEBREHIWET FANIEL EYOB - ITA - 29:15
7. CHIAPPINELLI YOHANES - ITA - 29:21
8. AOUANI ILIASS - ITA - 29:45
9. JIHNAOUI MOHAMED AMINE - TUN - 29:49
10. ALFIERI LUCA - ITA - 29:53
-->