Kipyego and Kiplagat return to defend Abu Dhabi Marathon titles

Posted by:
Watch Athletics
Wednesday, 24 November 2021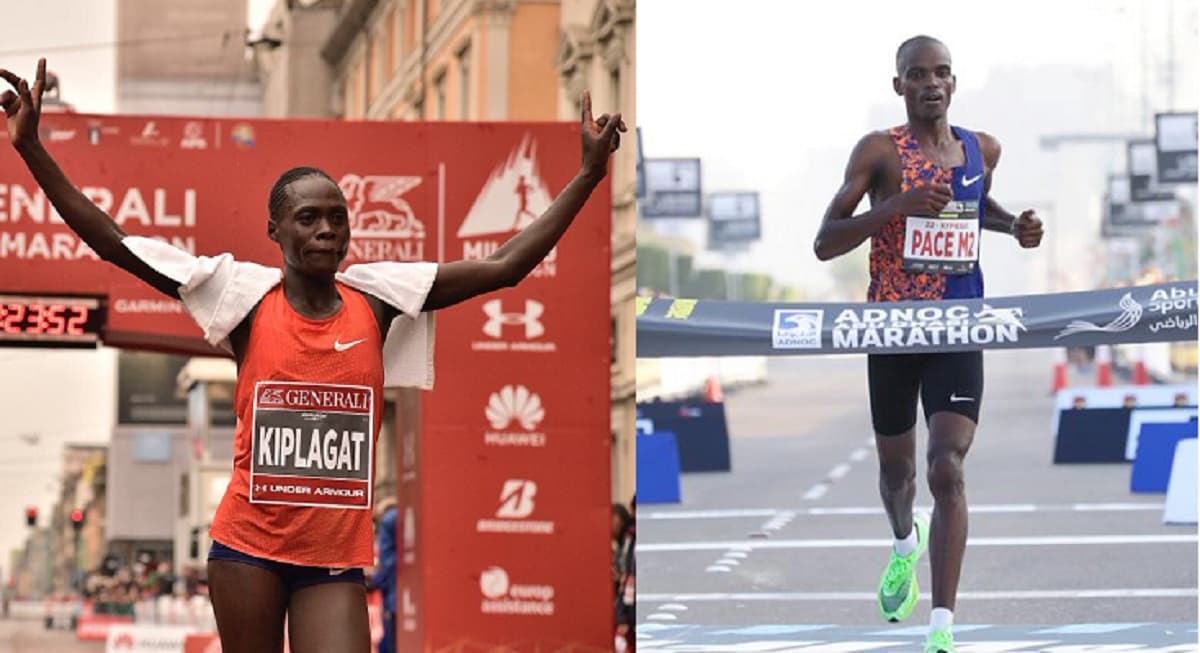 Reuben Kiprop Kipyego will return to Abu Dhabi to defend his title at the ADNOC Abu Dhabi Marathon, A World Athletics elite label road race, on Friday 26 November.
Kipyego won the Abu Dhabi Marathon in 2:04:40 in 2019 and finished second at the Generali Milano Marathon last May improving his PB to 2:03:55, which ranks him 22nd in the world all-time list. In his career Kipyego also finished second at the Buenos Aires Marathon in 2:05:18 in 2019.
Watch Abu Dhabi Marathon live stream
Kipyego will take on his compatriot Titus Ekiru in a re-match of this year's Milan Marathon. Ekiru won the Italian race twice in his career in 2019 in 2:04:46 and in 2021 in a world leading time of 2:02:57. The 29-year-old Kenyan runner is ranked fifth in the world all-time list, but he was forced to withdraw from the Virgin London Marathon. He also won two marathons in Seville in 2017 in 2:07:43 and Honolulu in 2019 in 2:08:00.
Kipyego and Ekiru will be joined by Abel Kirui, who won two world marathon gold medals in Berlin 2017 and Daegu 2019, the Olympic silver medal in London 2012 and set a PB of 2:05:04 in Rotterdam in 2009. More recently the 39-year-old Kenyan runner finished fourth in London in 2:07:07 and seventh in Chicago in 2:07:52 in 2018 and eleventh in Milan in 2021 in 2:06:52.
Vivian Kiplagat leads the women's race
Kiplagat returns to Abu Dhabi in a bid to repeat her 2019 win in 2:21:11. The 30-year-old Kenyan runner also won five more marathon races Milan (2:27:08), Buenos Aires 2:29:03) and Honolulu (2:36:22) in 2018, in Mexico City at altitude in 2:33:27 and in Milan in 2:22:25 in 2019. This year she finished third at the Copenaghen Half Marathon in 1:06:07 and fifth at the Chicago Marathon in 2:29.14.
Kiplagat will face Ethiopian runner Alemu Megertu, who won the Rome Marathon in 2:22.52 and finished second in Frankfurt in 2:21:10 in 2019. In the half marathon she took fourth place in Copenaghen in 1:06:43 in 2019. Megertu also ran twice at the London Marathon finishing 5th in 2:24:23 in 2020 and 13th in 2:27:18 in 2021.
The other top names are Asian record holder Eunice Chumba from Barhein, who set her PB of 2:23:10 in Milan last May and finished seventh at the Olympic Games in Sapporo last summer, and 2011 world marathon bronze medallist and 2:22:28 performer Sharon Cherop, who makes her come-back from maternity leave.
Men elite field
| Bib | Name | Nat. |
| --- | --- | --- |
| 1 | Titus EKIRU | KEN |
| 2 | Barnabas KIPTUM | KEN |
| 3 | Abel KIRUI | KEN |
| 4 | Victor KIPCHIRCHIR | KEN |
| 5 | Philemon Rono CHEROP | KEN |
| 6 | Abdi Asefa KEBEDE | ETH |
| 7 | Shumi Dechasa LECHE | BRN |
| 8 | Alphonce Felix SIMBU | TAN |
| 9 | Hicham LAQOUHAI | MAR |
| 10 | Alemu Gemechu DEMSHU | ETH |
| 11 | Thomas Kiplagat RONO | KEN |
| 12 | Cyrus Kipkemboi MUTAI | KEN |
| 13 | Tadesse Mamo TEMECHACHU | ETH |
| 14 | Amsolom Tesfaldet NGUSE | ERI |
| 15 | Tsegay Tekle BERHANE | ERI |
| 16 | Asefa Bedada BELAY | ETH |
| 17 | Oqbe Kibrom RUESOM | ERI |
| 18 | Felix KIMUTAI | KEN |
| 51 | Stephen MOKOKA | RSA |
| 52 | Marius KIPSEREM | KEN |
| 53 | Joel Kemboi KIMURER | KEN |
| 54 | Hosea Kiplagat KIPKEMBOI | KEN |
| 55 | Timothy Kosgei KIPCHUMBA | KEN |
| 56 | Getu Hailu SENBETU | ETH |
| 99 | Reuben Kiprop KIPYEGO | KEN |
Women elite field
| Bib | Name | Nat. |
| --- | --- | --- |
| 101 | Vivian Jerono KIPLAGAT | KEN |
| 102 | Megertu Alemu KEBEDE | ETH |
| 103 | Eunice Chebichii CHUMBA | BRN |
| 104 | Sintayehu Lewetegn HAILEMICHAEL | ETH |
| 105 | Abebech Afework BEKELE | ETH |
| 106 | Betelhem Moges CHERENET | ETH |
| 107 | Judith Jeptum KORIR | KEN |
| 108 | Sharon Jemutai CHEROP | KEN |
| 109 | Monica JEPKOECH | KEN |
| 110 | Letebrhan Haylay GEBRESLASEA | ETH |
| 111 | Wude Ayalew YIMER | ETH |
| 112 | Immaculate CHEMUTAI | UGA |
| 113 | Nurit Shimels YIMAM | ETH |
| 114 | Almaz Gelana ERBA | ETH |
| 115 | Meseret Dinke MELEKA | ETH |
| 116 | Aleksandra MOROZOVA | RUS |
-->