• Nageeye takes on Bekele at the New York City Marathon

Posted by:
Watch Athletics
Friday, 05 November 2021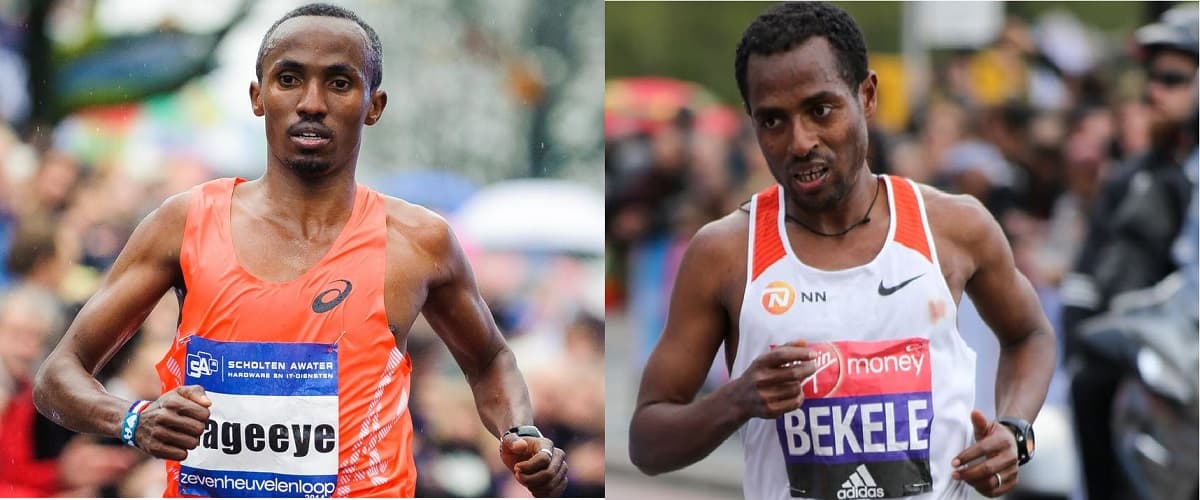 Olympic silver medallist Abdi Nageeye from the Netherlands will face four-time Olympic medalist and 16-time world champion Kenenisa Bekele in the men's race at the 50th anniversary of the TCS New York City Marathon, a World Athletics Elite Platinum Label Road Race.
Nageeye finished second in the Olympic race in Sapporo in 2:09:58 behind Eliud Kipchoge. The Somali-born Dutch runner also crossed the finish-line in 11th place at the Olympic Games in Rio de Janeiro 2016, finished eighth in 2016 and seventh in 2018 at the Boston Marathon and sixth at the European Championships in the half marathon in Amsterdam 2016. After the Olympic Games Nageeye took fifth place at the Great Manchester Run in the 10 km in 28:29. He set the Dutch records in the half marathon with 1:00:24 in Marugame in 2019 and in the marathon with 2:06:17 in Rotterdam in 2019.
Watch New York City Marathon live stream online.
"For me winning the Olympic silver medal was not a surprise. There were many good athletes in the race, but I knew my preparation had been good. I was ready for the conditions, and most importantly I believed in myself. I took that same focus into the preparation for the New York Marathon, and my belief and my confidence in my abilities is even higher than it was in Sapporo. There is nothing I want more than to bring a New York City victory back home along with my Olympic medal", said Nageeye.
Kenenisa Bekele will make his debut in New York Marathon. The Ethiopian running legend won four Olympic medals (gold in the 10000m and silver in the 5000m in Athens 2004 and a double gold medal in the 5000m and 10000m in Beijing 2008) and a total of 16 world medals (five on the track and eleven in cross country). Bekele won the Berlin Marathon in 2019 setting the second fastest time in history with 2:01:41, just two seconds off the world record held by Eliud Kipchoge. He will run his second race this year just 41 days after finishing third in Berlin in 2:06:47.
"I am proud of the many accomplishments in my career, but I have never had the opportunity to compete in the TCS New York Marathon. I am excited that 2021 will be the year to make my attempt in New York. Some of my greatest success has come in cross country running and I have been told that the hills and turns of New York reward athletes with the strength that comes from running cross country. I will do my best to join that great list of New York City champions", said Kenenisa Bekele.
Kibiwott Kandie and Callum Hawkins will make their debuts in New York. Kandie set the world half marathon record with 57:32 in Valencia 2020 and won the world half marathon silver medal in Gdynia 2020. The Kenyan runner will run the first marathon of his career.
Hawkins took part at two editions of the Olympic Games achieving a ninth place in the marathon in Rio de Janeiro 2016 as his best result and finished fourth in the marathon at two consecutive editions of the World Championships in London 2017 (2:10:17) and Doha 2019 (2:10:57).
Kenya's Albert Korir and Ethiopia's Girma Bekele Gebre, who finished second and third in the 2019 edition of the New York Marathon, and 2016 winner and 2015 world marathon champion Ghirmay Ghebrselassie will return to New York with the goal to repeat their podium performances.
Italy's Eyob Faniel will run his second marathon race in 2021 three months after finishing 20th at the Olympic Games in Sapporo. Faniel took three seconds off the Italian marathon record held by Stefano Baldini clocking 2:07:19 in Seville in February 2020. This year Faniel improved the national half marathon record running 1:00:07 in Siena.