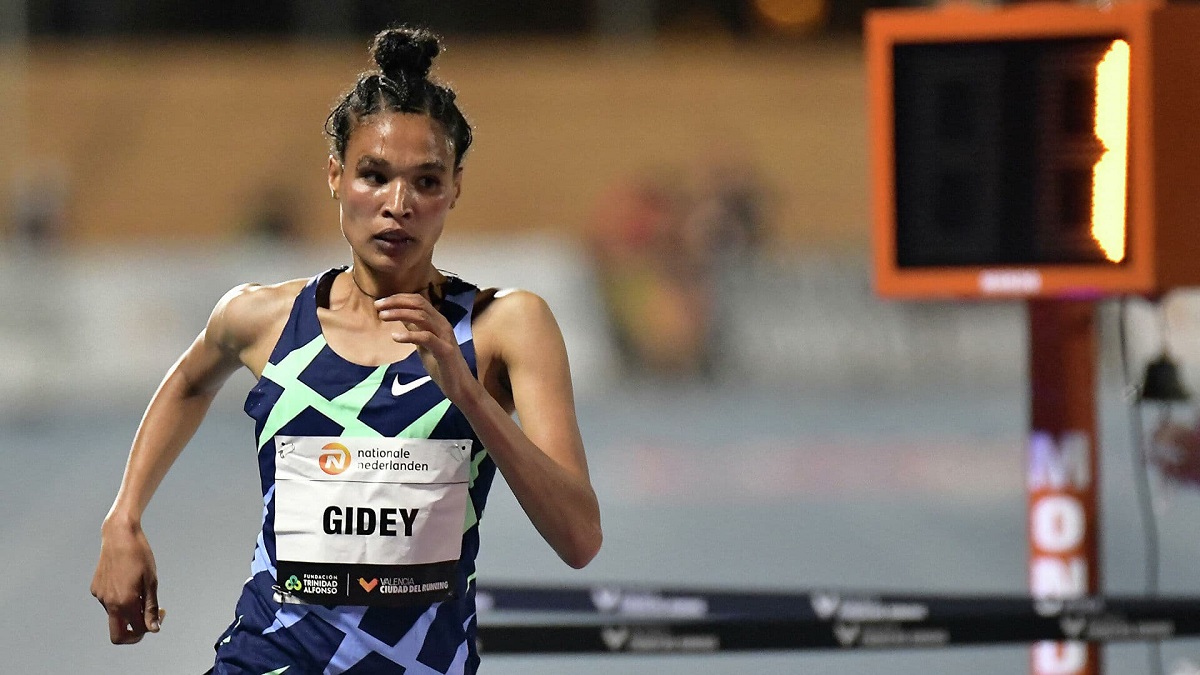 Letesenbet Gidey from Ethiopia smashed the world half marathon record clocking a sensational time of 1:02:52 at the Valencia Half Marathon on her debut over the 21 km distance in the city, where she broke the 5000m world record with 14:06.62 in October 2020.
Gidey took 1:10 off the previous world record of 1:04:02 held by Ruth Chepngetich. Gidey becomes the first woman in history to dip under the 63 minutes barrier.
Her compatriot Genetu Motaling finished second in 1:03.51 moving up to second in the world half marathon all-time list. Yalemzerf Yehualaw, whose recent time of 1:03:44 in Antrim was not ratified by World Athletics as the course was too short, completed the podium sharing the same time set by Motaling.
Kenya's Sheila Chepkirui crossed the finish-line in fourth place in 1:04:53 ahead of her compatriot Brenda Jepleting (1:05:44), Bosena Mulate (1:06:00) and Nigsti Haftu (1:06:17).
Gidey, who was paced by Mebrahtu Kiros, went through the 5 km in 15:00 and the 10 km in 29:45, the third fastest time in history for this distance. Gidey was just seven seconds shy of the 10 km world record set by Ethiopia's Kalkidan Gezahegne.
Gidey covered the 5 km split between the 10 km and 15 km in 14:44 and went through the 15 km mark in 44:29. She was more than one minute inside world record schedule. She slowed down a bit in the final 5 km, but she held on to cross the finish-line in 1:02:52.
Gidey now holds the world records in the 5000m, 10000m (29:01:03 set in Hengelo last June) and the half marathons.
"I am so happy to break the world record in my first half marathon", said Gidey.
Top European women were Sarah Lahti of Sweden (68:19) in 9th place and Fionna Mccormack of Ireland who clocked 69:32 to finish in 10th place.
Kenya's Abel Kipchumba won the men's race in 58:07, moving up to sixth in the world all-time list. Kipchumba improved his own world seasonal best set in Herzogenaurach last September. Kipchumba beat 10000m world bronze medallist Rhonex Kipruto by two seconds. Seven men broke the 59 minutes barrier in a race of unprecedented depth.
Daniel Mateiko took third place in 58:26 beating Kennedy Kimutai (58:28), Philemon Kimutai (58:34), double 5000m world champion Muktar Edris (58:40) and Mathew Kimeli (58:43). Three more runners ran under the 59:30 minutes barrier: Kelvin Kiptum (59:02), Rodgers Kwemoi (59:16) and Felix Kipkoech (59:28).
Watch the full race replay here.
See the Valencia half marathon results here.
Top results men
1. Alex Kipchumba (KEN) - 58:07
2. Rhonex Kipruto (KEN) - 58:09
3. Daniel Mateiko (KEN) - 58:26
4. Kennedy Kimutai (KEN) - 58:28
5. Philemon Kiplimo (KEN) - 58:34
6. Muktar Edris (ETH) - 58:40
7. Mathew Kimeli (KEN) - 58:43
8. Kelvin Kiptum (KEN) - 59:02
9. Rodgers Kwemoi (KEN) - 59:16
10. Felix Kipkoech (KEN) - 59:28
Top results women
1. Letesenbet Gidey (ETH) - 62:52 (World record)
2. Genetu Molalign (ETH) - 63:51
3. Yalemzerf Yehualaw (ETH) - 63:51
4. Sheila Chepkirui (KEN) - 64:53
5. Brenda Jepleting (KEN) - 65:44
6. Bosena Mulate (ETH) - 66:00
7. Nigsti Haftu (ETH) - 66:17
8. Hawi Feysa (ETH) - 67:25
9. Sarah Lahti (SWE) - 68:19
10. Fionna Mccormack (IRL) - 69:32
-->