• Tura and Chepngetich win Chicago Marathon

Posted by:
Watch Athletics
Sunday, 10 October 2021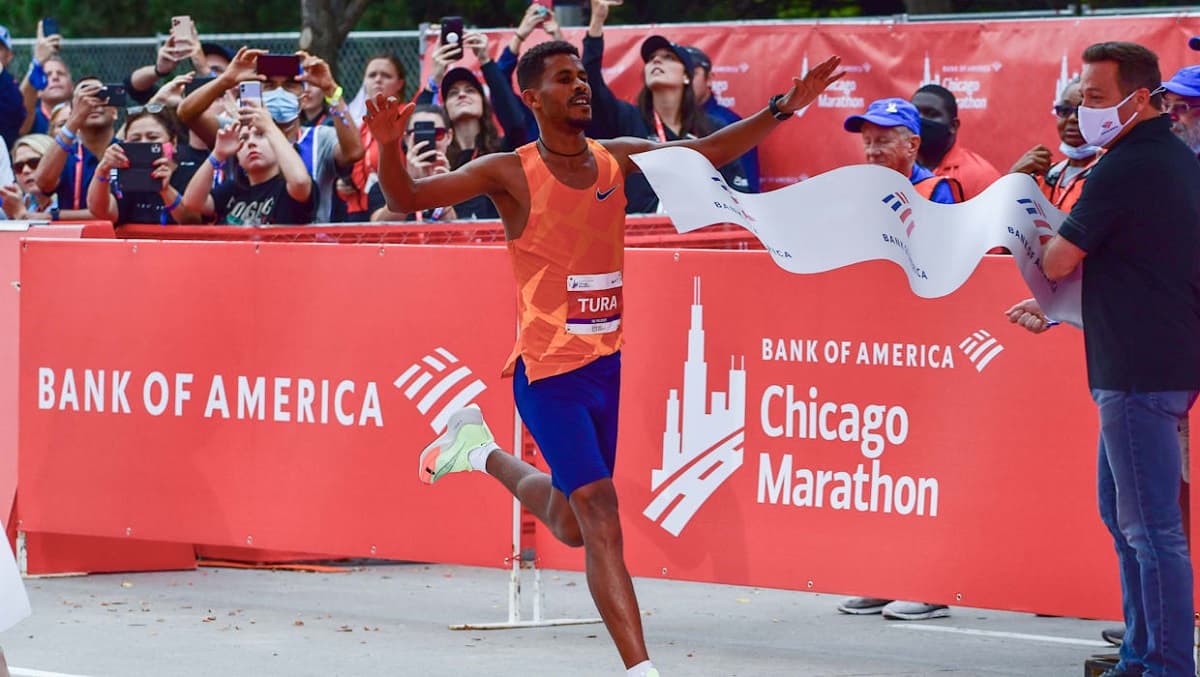 Seifu Tura Abdiwak won the men's race in 2:06:12 in warm weather conditions at the Bank of America Chicago Marathon, a World Athletics Elite Platinum Label and World Marathon Majors Race.
After finishing sixth in the 2019 Chicago Marathon Tura broke away at 37 km to beat Rupp by 23 seconds.
Tura started his career as a youth competitor on the track, running the 3000m and the 5000m. The Ethiopian runner moved to the road in 2017 finishing second in Seoul in 2:09:26. He made a major breakthrough in 2018 when he clocked 2:04:44 in Dubai. Later that year he won two marathon races in Milan in 2:09:04 and Shanghai in 2:09:18. He finished eighth in 2:08:36 in Dubai in 2020 and fourth in Milan last May improving his PB to 2:04:29.
Rupp dropped back in the final stages of the race crossing the finish-line in second place in 2:06:35 ahead of Eric Kiptanui (2:06:51). Rupp, who won the Chicago Marathon in 2017, was running his second marathon race of the year two months after finishing eighth at the Olympic Games in Sapporo.
"When I came here in 2019 I had not really been preparing for this race. I was due t run another race but ended up racing here. This time I prepared for more than three months and if it wasn't for the weather being warm, my goal had been to improve my personal best. I am very happy to have won in Chicago", said Tura.
Ethiopia's Shifera Tamru led the pack in the first half of the race and built up a 15-second lead at 15 km. Reuben Kipyego and Seifu Tura chased down Tamru and caught him just before halfway, which the leading pack reached in 1:02:40.
Rupp was 17 seconds behind the leading group. At the halfway mark the pace began to slow down and Rupp caught up with the leading pack. The US top runner made up 15 seconds on the leaders by the 25 km mark and ran with a group of seven runners. The leading group covered the next 10 km split from 20 km to 30 km at 2:11 pace. Tamru was the first to lose contact and finished fifth in 2:09:39.
The leading pack was whittled down to just three runners Tura, Rupp and Eric Kiptanui, who broke away from the rest of the field.
They covered the 5 km split between the 30 and 35 km at 2:06 pace and battled it out in the final part of the race. Tura launched his final kick with 5 km to go to claim his first World Marathon win. Rupp could not close the gap on Tura and moved into second place.
Rupp made his fourth appearance in Chicago and won this race in 2017.He also finished fifth in 2018 and did not finish the race in 2019 due to a knee injury.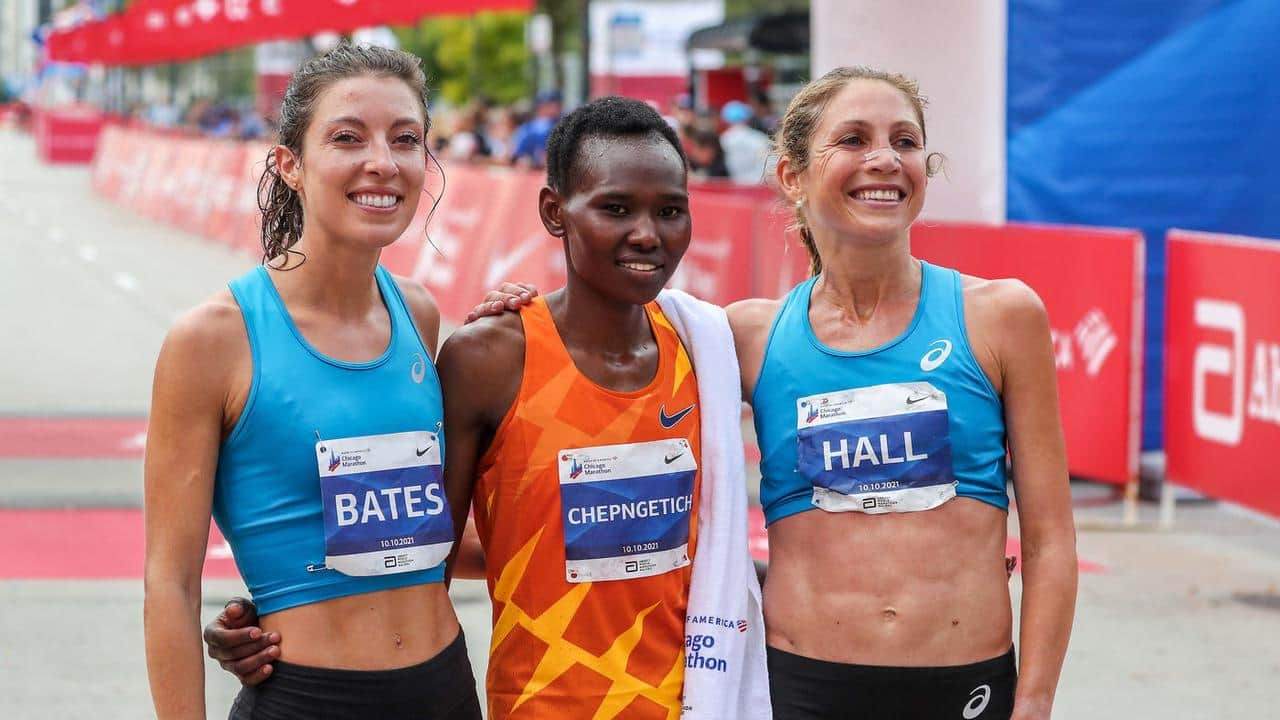 Reigning world marathon champion Ruth Chepngetich ran alone for most of the race to cross the finish line in 2:22:31 beating US runner Emma Bates, who set her PB and top-10 US performance with 2:24:20. Sara Hall completed the podium finishing third in 2:27:19.
Chepngetich took the early lead and was ahead of world record pace by the 21km mark. The 27-year-old Kenyan runner was a minute ahead of the rest of the field. At 30 km she ran alone. Hall suffered in the humid conditions and dropped to fourth place behind Bates and two-time Milan Marathon winner Vivian Kiplagat. Bates moved into second place at 40 km, 2:25 behind Chepngetich.
Chepngetich bounced back from the disappointment at the Olympic Games in Tokyo, where she dropped out at 30 km. She has reached the podium in every race she has finished since her debut in 2017.
World record holder Daniel Romanchuk won his third Chicago Marathon in the wheelchair in 1:29:07 beating Marcel Hug by one second. Tatyana McFadden claimed the women's wheelchair race in 1:48:57.
"The race was good, buti t was not easy because I pushed alone from 13 km until the finish line. The weather was nice. I just believed in myself. I am confident and I just pushed myself. I told God to give me the strength to finish the race. I did not look back. I just pushed forward and focused on the finish-line. I was feeling strong but I could feel in the legs", said Chepngetich.
Complete Chicago Marathon results.
Top results men marathon
1. Tura Abdiwak, Seifu (ETH) - 2:06:12
2. Rupp, Galen (USA) - 2:06:35
3. Kiptanui, Eric (KEN) - 2:06:51
4. Suzuki, Kengo (JPN) - 2:08:50
5. Tamru Aredo, Shifera (ETH) - 2:09:39
6. Mickow, Colin (USA) - 2:13:31
7. Montanez, Nico (USA) - 2:13:55
8. Kipyego, Reuben Kiprop (KEN) - 2:14:24
9. Fischer, Reed (USA) - 2:14:41
10. Given, Wilkerson (USA) - 2:14:55
Top results women marathon
1. Chepngetich, Ruth (KEN) - 2:22:31
2. Bates, Emma (USA) - 2:24:20
3. Hall, Sara (USA) - 2:27:19
4. D'Amato, Keira (USA) - 2:28:22
5. Kiplagat, Vivian Jerono (KEN) - 2:29:14
6. Edwards, Rosie (GBR) - 2:30:17
7. Krifchin, Maegan (USA) - 2:30:17
8. Verdon, Carrie (USA) - 2:31:51
9. Pagano, Sarah (USA) - 2:33:11
10. Belete Tola, Meseret (ETH) - 2:33:14