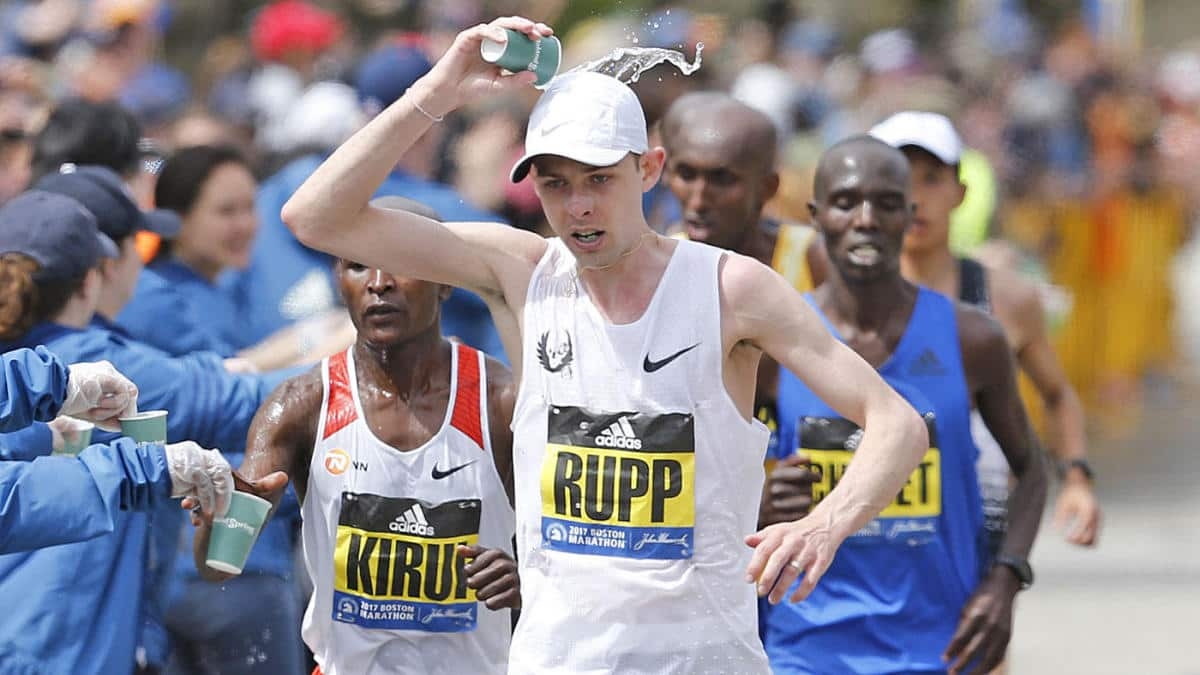 US running star Galen Rupp leads the men's line-up at the Chicago Marathon, a World Athletics Platinum Label Race and a Abbott World Marathon Majors Race.
Chicago Marathon live stream and results
Rupp won two Olympic medals (silver in the 10000m in London 2012 and bronze in the marathon in Rio de Janeiro 2016). Rupp will run his second marathon race this year nine weeks after finishing eighth at the Olympic Games in Sapporo. Rupp clocked 1:01:52 in the half marathon at the Great North Run five weeks after the Olympic Games. The runner born in Portland set his PB of 2:06:07 in Prague in 2018 just three weeks after withdrawing from the Boston Marathon due to bad weather and finished fifth in 2:06:21 in Chicago later in the same year.
Four runners in the field have run 2:04 or faster.
The African challenge is led by Dickson Chumba from Kenya, who won in Chicago in 2015 and Tokyo in 2014 and 2018. He also finished third in 2014 and second in 2016 in the Windy City in Illinois.
The fastest runner in the field is Kenya's Reuben Kipyego, who finished second in Milan in 2:03:55 last May. Kipyego ran 2:04:12 in Valencia in 2020, 2:04:40 in Abu Dhabi in 2019 and 2:05:18 in Buenos Aires in 2019.
The other top names are Seifu Tura from Ethiopia, who finished sixth in Chicago in 2019 and took fourth place at the Milan Marathon in 2:04:29 last May 34 seconds behind Kipyego, Kengo Suzuki from Japan, who finished seventh at the Japanese Olympic Trials in 2019 and set the National record of 2:04:56 (the fastest non African-born time in history) in Lake Biwa last February, Chalu Deso, who clocked a PB of 2:04:53 in Valencia last year and finished fourth at the Ethiopian Trials, Eric Kiptanui, who won the Tuscany Camp Global Elite Marathon Race in Siena in 2:05:47. Kiptanui set his half marathon PB of 58:42 in Berlin in 2018 and clocked 2:06:17 on his marathon debut in Dubai in 2020 finishing just two seconds off the win.
Men's elite field

Bib Name Personal best Country
2…. Reuben Kipyego …….. 2:03:55 (Milan, 2021)…..KEN
3…. Seifu Tura…… 2:04:29 (Milan, 2021)…..ETH
4….Dickson Chumba……. 2:04:32 (Chicago, 2014)…….KEN
5…. Kengo Suzuki……. 2:04:56 (Otsu, 2021)…….JPN
6…. Shifera Tamru …. 2:05:18 (Dubai, 2019)….ETH
7…. Eric Kiptanui …….. 2:05:47 (Siena, 2021) ….KEN
38 ..Chalu Deso…..2:04:53 (Valencia, 2020)…….ETH
9….Galen Rupp…. 2:06:07 (Prague, 2018)..USA
10.. Fikre Bekele .. 2:06:27 (Seoul, 2019) ….ETH
11.. Abdi Ibrahim Abdo …. 2:08:32 (Rome, 2018)…. BRN
12.. Ian Butler……. 2:09:45 (Chandler AZ, 2020)……USA
13.. Ivan Gonzalez …… 2:11:07 (Valencia, 2020) ……COL
14.. Emmanuel Roudolff-Levisse…… 2:11:20 (Chandler AZ, 2020)…… FRA
15..Colin Mickow……. 2:11:22 (Chandler AZ, 2020)……USA
16.. Wilkerson Given……… 2:11:44 (Chicago, 2019)…….USA
17.. Wily Canchanya.. 2:12:33 (Prague, 2021).. PER
18.. Tyler Jermann…… 2:12:40 (Chandler AZ, 2020)……USA
19..Chris Derrick…….. 2:12:50 (Chicago, 2017)…….USA
20..Josh Izewski .. 2:13:15 (Sacramento, 2018)……USA
21..Mike Sayenko…… 2:13:34 (Chandler AZ, 2020)……USA
22..Nico Montanez… 2:14:07 (Chandler AZ, 2020)……USA
23..John Tello……. 2:14:19 (Peru, 2021)…….COL
24.. Alan Peterson…… 2:14:45 (Chandler AZ, 2020)……USA
25..Dan Kremske……. 2:14:53 (Chicago, 2019)…….USA
26.. Turner Wiley.. 2:17:00 (Chicago, 2019)…….USA
27..Brett Lustgarten……. 2:17:18 (Sacramento, 2018)……USA
28.. Kurt Roeser .. 2:17:59 (Sacramento, 2018)……USA
29..Oscar Medina …. 2:18:45 (Chicago, 2019)…….USA
30.. Reed Fischer…….. 2:24:48 (Atlanta, 2020)..USA
31..Clayton Young….. 2:29:46 (Atlanta, 2020)..USA
32.. Abdisamed Abdi …….Debut …….USA
33..Ben Kendell…Debut …….USA
34.. Ian La Mere ……..Debut …….USA
35.. Zach Panning…….Debut……..USA
36..Gonzalo Parra ….Debut…….MEX
37..Jacob Thomson..Debut……..USA